When it comes to standing out from the crowd and evoking emotion, nothing beats video. Especially for B2B businesses, as the number three type of content B2B marketers use for content marketing purposes is, of course, video.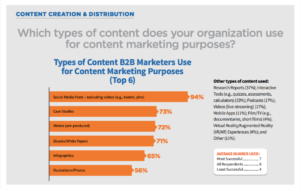 Source: CMI
A video communicates a lot more information in far less time so it's the most effective option to tell some irresistible brand stories. It helps you to make use of thought-provoking visuals, graphics, sound and narration to get your audience hooked.
However, create video content that drives engagement and sales requires tons of strategic and creative planning. You need to segment your audience according to their lifecycle stage to deliver the right message at the right time.
One of the most important considerations when planning new video content is what style of video you choose to produce. For example, B2B marketers need entertaining videos to initially attract customers, and then heavier-hitting pieces to educate and drive leads through the funnel toward an eventual purchase.
In the following list, we will describe 4 types of videos suitable for B2B marketing and you can probably learn which style will help you achieve your goals. All of them are worth to produce and include on your website right now.
1. Explainer Videos
An explainer video is an animated video that illustrates the core features of your products and services in simple terms. It uses animated characters, text, graphics and a narrative to tell your product story.
Explainer videos are an easy way to communicate your unique selling proposition in 1-2 minutes. Focusing on 1-3 points maximum per explainer video is ideal. They are extremely beneficial for startup companies and businesses selling complex technology products.

2. Testimonial Videos
Testimonial videos can work wonders to trigger the buying decision among your potential customers. These videos are typically live-action videos.
Top three most effective types of video content: Customer testimonials (51%); Tutorial videos (50%); Demonstration videos (49%) (Source: Curata)

Testimonials can work for all types of high-value products and services. For any product where the customer has to invest a large sum of money, social proof becomes extremely crucial.
3. Animated Videos
The beauty of animated marketing videos is that the possibilities are limitless. Animation facilitates branding opportunities that don't quite work with live action clips.
These kinds of animated explainer videos work best for tedious products and services where the use of humorous videos make your product story more intriguing and exciting. It gives the audience a little something to connect to.
4. Culture Videos
A company culture video helps you to showcase your workspaces and the overall work environment. There's a reason this style is so prevalent and it's because a culture video allows companies to speak to their consumers, partners, and potential recruits in a personal, often casual, way. So you can humanize your business and building brand identity at the same time.
Here a wrap up with many other types of videos you can considerate too depending on the stage of the customer journey but make sure you stick to one or two formats to maintain visual consistency.
Video Type
Relevant Stage(s)
Promotional Channels
Educational videos

Attention

Capture

Nurture

Social media

Blog

Email

Entertainment videos

Attention

Social media

Explainer and demo videos

Capture

Convert

Website

Landing page

Event videos

Nurture

Social media

Blog

Email

Testimonial videos

Convert

Website

Landing pages

Social media

Corporate videos

Convert

Website

Landing pages

Tutorials

Grow

Website

Social media

Email

Work culture videos

Grow

Website

Social media
Still not sure which one to choose? You're in luck. Vidico are experts in simplifying your brand messaging and selecting the right style for you. Get started with a free script today.