Visuals convey instructions more efficiently than ebooks and walls of text on a website. 
Think about it, how many times have you preferred watching tutorials or how-tos on YouTube—whether it's mounting the baby's cradle, putting together a new piece of IKEA furniture, or using a new piece of software—instead of reading a block of text? 
Not surprisingly, research from TechSmith shows that 83% of people prefer watching videos to reading texts or listening to audio to access instructional or informational content. Also, according to Insivia, viewers retain 95% of a video message compared to 10% when reading a text message. 
The bottom line is that nothing beats instructional videos when it comes to educating your audience or employees. 
This article will teach you all about instructional videos and how to leverage them. We'll also share some examples we created at Vidico to show what instructional videos look like at their best.
Note: Have a product or software with a fairly complex use case? Want to create killer instructional videos to educate your users and reduce friction? Vidico is here to help. Grab your free strategy session here.
What is an instructional video?
An instructional video is a short video that conveys a message with educational value by breaking down a concept or simplifying difficult-to-assimilate notions. The objective is to help an audience learn a specific concept, skill, procedure, or technique.
7 most effective types of instructional videos
There are countless ways you can convey instructions through video. Let's discuss the main types of instructional videos you can create. 
1. Explainer instructional videos
Explainer instructional videos are useful when the need is more about understanding than practicing. It helps you explain a complex business process, concept, or product for the benefit of your employees or customers. They're usually short, entertaining, and visually appealing. Here is an example from Etsy. 
2. Micro instructional videos
Micro videos are short and brief training videos. They mainly focus on a single topic/task and rapidly engage the audience to take action or learn something. For maximum results, micro videos should always be around 1-3 minutes long. Here is an example from BuzzFeed Food TV.
3. Training videos
Want to improve your employees' skills in the workplace?

Want to get your customers started with your product/tool and teach them how to make the most out of it?
If you answer yes to any of the upper questions, then you should consider creating training videos. Training videos work well for training both employees and customers. Depending on your product and your goal with the video, you can consider live-action footage of trainers or screencast videos of the trainer. Here is a fun example from Burger King.
4. Practice-based tutorials
The idea behind this type of instructional video is straightforward. It's a "watch someone do it and repeat it kind of video. These can be useful to keep employees abreast of business standard operating procedures. The videos employ someone performing the skill you are trying to transfer to your audience and can see it live or through animation. Here is an example from Sam Oh of Ahrefs.
5. Demo videos
Demo videos are handy to educate your audience on doing something using a tool or digital product. It helps showcase the tool's functionalities and teaches viewers how to use them. This instructional video is ideal for onboarding customers or training employees on a new product the company releases. Salespeople can also use them for marketing. Here is an example from Vimeo demonstrating security and support capabilities.
6. Video lectures
Video lectures are generally long-form instructional content and require more time for your viewers to complete. These can be webinars, live meetups, or presentations that you repurpose into a video lecture for your audience's benefit. Here is an example from Slack.
7. Instructional course series
These instructional videos cover important topics or multi-fold tasks the audience has to learn over time. Think about it like online courses as uploaded and displayed on teaching platforms. It's generally a pool for support materials customers or employees can refer to. Here is an example from the Salesforce YouTube library.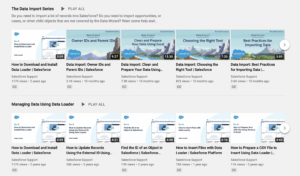 One of the key benefits of this is that viewers get to learn in a self-paced manner.
3 main styles of instructional videos
Here are four video production styles you can use for creating stellar instructional videos. 
1. Live-action
Live action videos involve real-life footage of trainers performing tasks or breaking down concepts, procedures, etc., for your viewers to learn. This video style easily connects your audience with the trainer and fosters more understanding and action—as viewers can easily grasp instructions and repeat them. Here is an example from Rand Fishkin, CEO of SparkToro.
2. Screen-recorded and screencast
Screen-recorded instructional videos are mainly achieved using screen capture tools. These are simply recordings of someone performing a task and showing viewers how to do it. Here is an example.
Alternatively, it can be a quick screencast video on how to use a piece of software—by casting its user interface—to teach the audience a specific skill. Here is an example.
Infographics or animation
Infographic instructional videos are driven by animation. Here, you use animations to paint stories and illustrate concepts and all kinds of elements to break down complex topics, exemplify processes, and get your message across. Animation or infographic instructional videos are usually short and rely heavily on voiceovers. Here is an example from Freighty.
6 steps to create excellent instructional videos
Now that you know the types and styles of instructional videos you can create, let's talk about the steps you need to take to bring it home.
Step 1: Decide on your goals. 
Before creating an instructional video, you must ensure that you are clear on your goals. For this instance, your goal should circle what you're trying to teach the audience. This will help you define what information you include in your video and who you share it with. 
Think about the problems you are trying to solve with the instructional video. 
Are you trying to educate new customers on your tool?

Maybe employees are having issues integrating with your company's SOPs?

Do you need to show colleagues how to do something specific?

Do you need to prove the value of the software by showing it in action?

Are there some issues that users always complain about that you want to show how to avoid?

Do you want to show customers how to get started with your product or tool? 

Are you training a new hire?

Etc.
There are myriad reasons you might need an instructional video. But keep in mind that your goal with the video will indicate its type and style. It will also help you define the key performance indicators (KPIs) you use to make sense of success or lack thereof. For example, if your goal with the video is to educate employees on your company's SOPs, your success indicator is complete and proper SOPs integration. 
Step 2: Know your audience
Your instructional video also needs to be reflective of its target audience. Take the time to consider your audience before jumping into video production. Here are a few things you need to consider:
Target group:

Depending on your business, you might need an instructional video for your employees or customers. So, quick question. Is the video for your customers or employees? This is important because you need to understand their needs and factor in their interests, concerns, and goals.  
Language:

Here, you need to be empathetic, especially with your customer. Outsiders don't generally have the same level of understanding of your product and topic as you do. So, you must ensure you speak a language up their alley. This also means removing anything that might trip them up. 
Audience's needs:

Ask yourself a few questions. What problems are you trying to solve? Why would people want to watch your video? What will they gain after watching your video? Answering these questions gets you to lay down specific instructions you will include in the video and make it more valuable. 
Step 3: Draft your script and storyboard
Let's kick things up a notch. Start by summarizing the main points, tips, or instructions you want to give viewers. This should stem from what you want them to achieve after watching the video and the process of achieving it. Here are a few indications you can follow:
First, start by clearing out the topic and telling viewers what they are signing up for by watching the video and results they'll get after doing so. 

Take the time to think about the best way to do what they want to learn to do through the video, and break it down into easy-to-perform action steps. 

Next, consider adding supportive walkthrough or explainer phrases next to each step to help viewers understand and memorize the process. 

End by summarizing your instructional video's main points, instructions, or tips and invite viewers to apply their new skills.
Note: You must be precise in your communication with action verbs. You should also avoid jargon and ensure you show and tell. Anything other than what you promised to teach in your intro is unnecessary and should be removed.
Learn more about writing scripts here: Marketer's Guide To Writing Video Script
After writing the script, it's time to match it with the storyboard. In simple terms, you need to fit the narrative with actions, design elements, and animations you will include in the video—to ensure a proper flow and eliminate screen-time guesses.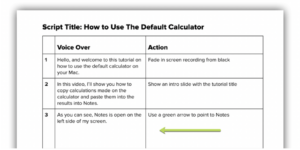 So, create a storyboard that provides a visual representation of what you plan to show in your instructional video. Keep in mind that you can draw quick sketches and stick figures to illustrate your storyboard. Like below: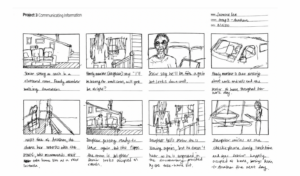 If you prefer, you can use storyboarding apps like Boords or Milanote to facilitate the creation of your storyboards. They offer several clean templates—you won't have to start from scratch or struggle sketching figures. 
If you are planning a screen recording or screencast video, you can illustrate what you intend to show with a series of screenshots. You also mark (using arrows, blurs, opacity, etc.) the screenshots for areas you need to highlight something or show viewers where they need to click. 
Note: Take your time with this step. Make sure you are thorough. Ensure your instructions are clear and easy to understand. 
Learn more about storyboarding videos here: How To Effectively Storyboard An Explainer Video
Step 4: Record the voiceover
Now that you have your script and storyboard figured out, it's time to record your voiceover. Voiceovers might not be needed in every video. You can create a silent instructional video or use some background music to make it fun. 
Even more so, you can shoot subjects, record live voices and not use any voice-overs. At the end of the day, it depends on the style of video you plan to create. For example, animation and screencast instructional videos will most likely need a voiceover. So, when you do use voiceover here are a few things you need to ensure: 
The voiceover should be a strict reading of the script with regard to the storyboard.

Make sure the person reading articulates well and is clearly understandable. 

Do multiple recordings and edit different versions to achieve the best final results.
Without a doubt, you will need to use a voiceover recorder tool to record the voice. When choosing, make sure to use a tool that transcribes your voice in real-time as you record, like Audiate by TechSmith.
Step 5: Create/Shoot your video
The workflow at this stage will depend on everything you've planned so far, the video type and style you want, and most importantly, whether or not you want to do it yourself. So, let's discuss the implications. 
Do it yourself
Here you take the reign and produce the video, all by yourself. 
Screencast video
Creating a screencast instructional video is reasonably easy. And almost anyone with a computer and the right screen recorder tool can create the video. Here are the steps to follow in order to get a clean and professional-looking video: 
Complete a few repetitions of the process you intend to record to ensure everything is in line.

Close all unnecessary Apps and turn off notifications (sound and pop-ups).

Keep your script and storyboard in hand.

Open your screencast tool and record the process you practiced—while following the script and storyboard.

If possible, add a webcam recording to connect with viewers.

Keep in mind that every time you get lost or make a mistake, you must restart or pause to resume recording from the error point—depending on the tool you are using. 

Record a few times, compare versions, and choose the best.
Live-action video
Shooting a live-action instructional video indicates that you need to shoot subjects or trainers in action, performing actions while sharing tips and instructions. 
This type of instructional video is more demanding than screen recording and requires investing in and being familiar with video production equipment. On top of that, it can sometimes require video production skills that most people lack. 
But if you should do it, here is how:
Bring out the equipment (tripod, camera, lenses, microphone, a clean backdrop, lights, light reflectors, etc.)

Get a recording space, install equipment, and ensure it is well lit.

Prepare your subjects/trainers and ensure everybody looks great and is ready.

Position your camera and ensure you get everything you need in the shot.

Monitor, adjust, get feedback, and improve. 
Animation video
Animation is the most demanding type of instructional video. Because you'll have to build everything from scratch using design tools and software, it's just not possible to do it on your own unless you're initiated and have the knowledge and skills.
Hire a creative team
Hiring a creative team to produce your video takes the pressure off your shoulders and gives you more time to focus on other sides of your business. 
Best of all, video production teams have knowledge and expertise. They have experience and create professional-looking and clean instructional videos. 
You can task them with the whole process from script writing to the final cut and expect stellar results with top-notch features like professional animations, talented actors, drone shots, high-lift visuals, a proper flow to your video, etc. 
Note: You can work with Vidico to create your instructional videos. We are a team of video professionals and have experience producing videos for top brands like Amazon, Vimeo, Airtable, Airwallex, Koala, Bailey Nelson, UberEats, Spotify, and more. We offer an end-to-end, fully-managed video production process. You won't have to worry about anything. Talk to us here.
Step 6: Edit your video
This is the last step in your video production, and it's where you bring it home. If you hire a creative, then it doesn't apply to you. They'll take care of it for you. But if you're doing it yourself, this is the step you finalize your production. 
You will need to use a professional video editing tool to pull this off, like Premiere Pro, Final Cut Pro, Adobe Illustrator, or Filmora. Of course, this will require some knowledge and familiarity with the tools. Ideally, your goal is to edit the video to make it exactly what you want. Here are a few boxes you can check here.
Ensure a good intro.

Ensure good pacing of your video.

Attach the voiceover.

Embed captions.

Add background music or sound.

Use sound effects.

Add fun video transitions.

Adjust exposure, color, and other parameters.

Use text overlay and typography animations to make instructions/actions/tips clear.

Etc.
Bonus step: Bring it to your audience
After creating your video, you need to upload it or share it where your audience will view it. Your goal with the video will also inform where you post it and who you share it with. Here are potential places you can consider. 
Across social media.

In SOPs documents or directories.

Customer onboarding emails.

Customer support materials.

Employee training and career page.

In your blog.

Etc.
7 examples of excellent instructional videos
Here are a few instructional videos you can learn from when creating your own. 
Q-Ctrl
This video is the first episode of an instructional video series. It combines animation and live-action footage with a trainer to explain a complex topic in a distilled language so viewers can easily understand. 
Mobike
Mobike's video is an animated explainer video that educates viewers on what the app does and how they can use it. The animation quickly paints the story and illustrates what users can expect from the app, facilitating understanding.
Anchor
Anchor's video is a software walkthrough. It's a prime example that a screencast video doesn't have to be boring. It combines animation with a screencast which makes the video fun and gets the message across properly. 
Airtable
This is a tutorial video, a micro instructional video, if you will. Airtable focuses on a specific group of audience and screencasts and how they can achieve something specific with the tool with a simple yet captivating voiceover and cool background music. 
Square
Got a fantastic product that users struggle to gain value from? You can solve your problem by learning from Square. Also, watching this video, you'll understand that screencast instructional videos don't have to be driven by screen recordings alone. Mixing things up with live footage and fun transitions make your video even more appealing.  
JRNI
JRNI's video does a great job of reiterating issues most users solve with the tool and provides a quick tour of the tool while explaining how to use it. If you're looking to create an instructional video for new customers, this is the video to learn from. 
Morphisec
Morphisec's video combines animation and screencast into a beautiful video that educates viewers on what the company offers and how it meets customers' needs. Furthermore, you'll love how the overall text participates in the explanation and makes the video easier to understand.
Work with Vidico to create educative instructional videos
If you've made it this far, it's likely that you have garnered tips and ideas on the specific type of instructional video you need. Our recommendation is that you always shoot for a video that's simple and easy to understand for your audience. The best instructional videos commend action and are easy to implement.
Also, you can learn from the examples that one of the best strategies when creating instructional videos is to mix up different styles to break the monotony and make it fun using cool transitions. If you do it this way, you will be able to keep viewers engaged and focused on the video. Also, it will be an entertaining video rather than a boring watch-and-repeat video style. 
Like what you read? We've got tons of cool ideas to help you create impressive instructional materials for your audience. Our world-class expert team has a lot of experience and worked with industry-leading companies like Amazon, Spotify, Digital Ocean, Uber, Vimeo, and more. Click here to talk to us.