As a creative agency that offers an end-to-end video production process, we value client satisfaction more than anything else. Since we're able to build close relationships with our partners, it's extremely important for us to maintain our dedication to process improvement, and we do this through client feedback following every project.
Our efforts to develop an end-to-end process that makes projects a breeze along with an intelligent, data-driven production process that ensure our video content is both scalable and cost-effective, have brought nothing other than 5-star reviews on Google and now we're starting our record on Clutch.
Just recently, we received our second 5-star review on Clutch from the Head of Marketing at Juni.co — the worlds first digital bank made for media buying and online advertising — who worked with us to produce a series of educational and promotional videos and now it's also part of our Partnership Program.
We have immediately received tons of new business thanks to people viewing our videos on social media and youtube. The video ad Vidico produced outperformed our old ads by 75%. The video is also a great tool to send to potential clients to give them an easily digestible way of understanding our services.

— Head of Marketing, Juni.co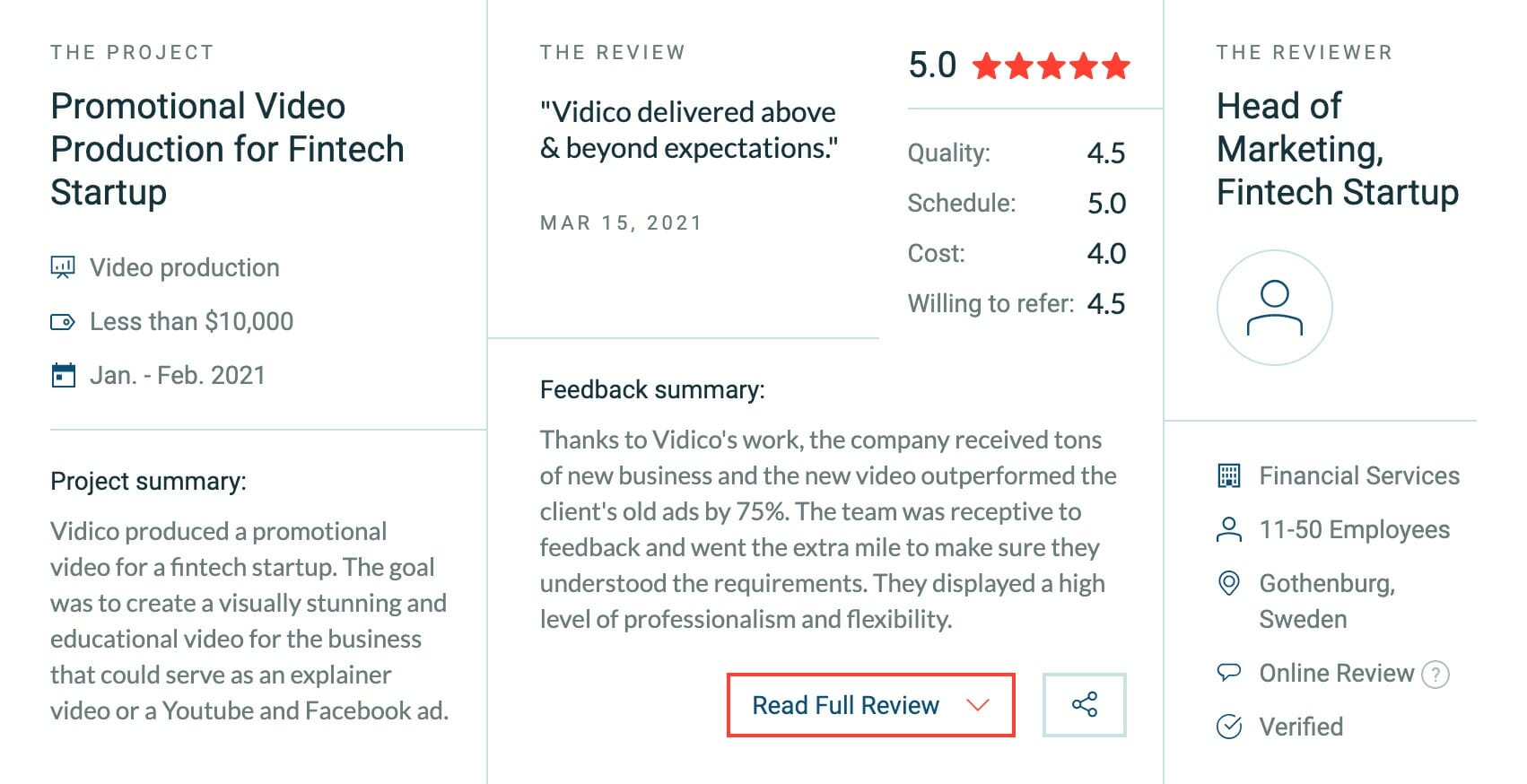 Juni.co aimed to create a visually stunning and educational video for their business that could serve both as an explainer and a high-performance Youtube/Facebook ad. See the case study here.

In our very first review on Clutch, our client DNSFilter — a cloud-based, AI-driven content filtering and threat protection service — explained the terms of our engagement. They also expressed their satisfaction with the outcome of the project. 

Now, if you haven't heard of Clutch, it's essentially Yelp for companies. Formally, Clutch is a B2B ratings and reviews platform based in Washington, DC. They evaluate technology service and solutions companies based on the quality of work, thought leadership, and client reviews. A rapidly expanding startup, Clutch has become the go-to resource in the agency space. Their review process is reliable and transparent, and we're grateful to those of our clients who have taken the time to provide feedback.
In our project with DNSFilter, they required us to produce an explainer video that introduces their software to the market and informs their potential clients about their services. As soon as they laid out the details of what they wanted to achieve, we provided them with a few options on the best possible approach to production.
After an intensive brainstorming and discussion, they went with the option that they found to be the best fit for their vision. From there, we worked closely with the DNSFilter team to create the first prototype of the product. Soon after, we delivered the whole package just as they envisioned it.
"I was impressed at first by the breadth of examples they gave us and the range of options we had. As we continued, I was most impressed by their project management abilities and how they kept us moving at every point in the process. Some vendors make you feel forgotten, but I feel like Vidico stayed on top of everything for us."

— Serena Raymond, Content Marketing Manager, DNSFilter
For a more detailed read on our engagement, visit us on Clutch and check out the full review. Also, The Manifest presents the top companies in the market, helping you find the right service provider for you, so check it out as well.
Lastly, if you'd like help with a free custom script for your video (or if you want us to shoot the whole thing for you), we would love to work with you and your team on your next video project. Let us know how we can help by reaching out today.