When promoting your business, enhancing brand awareness, and establishing credibility, nothing beats the power of professional video production services.
Full-service video production services alleviate the energy and time investment needed when creating impactful and high-quality videos.
With all the best video production companies available, finding the right fit can be challenging, so we created a list of top-notch providers for you to compare their offerings and make an informed choice.
Find an estimate for your video project in minutes.
With our new VidiFit quiz you can find the right type of video to meet your marketing goals along with a high-level estimation on how much it would cost to produce it.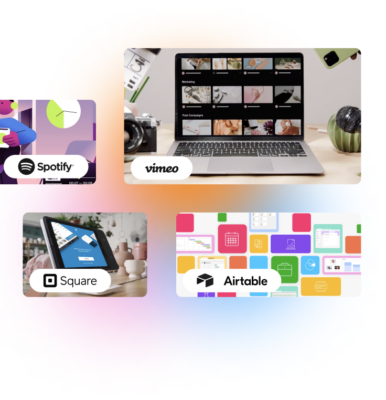 Top 15 Video Production Companies in 2023
1. Vidico
Average Pricing: Starts at $5,000
Target Industries: SaaS, Financial Services, E-commerce & Retail, Seed Startups, Series Startups, Established Enterprise, Non-Profit, Industrial and more
Top Clients: Spotify, Square, Airtable, Nutrislice, Treasury Prime, Koala, Digital Ocean and more
Who We Are:
Why settle for video production companies that fail to resonate with storytelling and differentiation when you can get video production services that guarantee unparalleled quality?
At Vidico, we pride ourselves on being one of the best video production companies that offer a wide range of video types for different industries.
With over 1 billion views on our 1200+ videos, our video production company is continuously passionate about crafting videos that provide clarity, captivate your target audience, and elevate your brand above the noise.
If you're looking for the best video production company, our extensive experience and dedication to excellence help us to create videos that leave a lasting impression.
Find the right type of video for your marketing goals and know how much it would cost with our new VidiFit quiz.
Pros:
Seamless and fully-managed video production process
Produce premium videos that captivate
Work with a talented, experienced, and professional in-house team
Cons:
Pricing may vary depending on the project
2. Casual
Average Pricing: Starts at $18,000
Target Industries: Automotive, Business, Fashion, Education, Finance, Tech, and Real Estate
Top Clients: BMW, GoDaddy, Google, and Adobe
Who They Are:
Casual offers marketing video production services in different industries for over two decades. They create corporate videos, promotional videos, explainer videos, and more for Fortune 500 companies [1].
Casual video production agency fosters brand affinity and drives business results for influential brands.
From live-action videos to animated videos, Casual focuses on the 5Cs- creative, clarity, catalyst, collaboration, and coherence.
Pros:
Award-winning video content production
Creates high-quality and compelling video
Professional video production team
Cons:
Potential high initial cost
Limited availability for rush video production services
3. Yum Yum
Average Pricing: Starts at $8,000
Target Industries: IT, Construction, Healthcare, Financial Services
Top Clients: Amazon, Google, Heinz, Vodafone, Huawei, and Red Bull
Who They Are:
Yum Yum Videos is another video production company that offers services to diverse industries.
The video company has a team of 10-20 talented individuals and collaborates with notable clients in creating videos for existing and new customers.
Yum Yum has an extensive portfolio; their expertise shines through every project. Using their own videos, they can connect your business with your target audience.
Pros:
Extensive industry experience
Tailored video content and compelling stories
Hands-on process
Cons:
Potential higher pricing
May require more client involvement
4. Sociallyin
Average Pricing: Starts at $5,000
Target Industries: Automotive, Construction, Design, Finance, Electronics
Top Clients: TikTok, NetApp, CTM, Premium Guard
Who They Are:
Sociallyn is a video production company with four offices in the US and over 200 clients. Their dedicated team provides excellent video production services to diverse industries.
The video agency expertly uses social media advertising to connect your brand with your audience. They use captivating images, color grading, videos, sound design, and words for good ROI [2].
Pros:
Impressive portfolio and finished product
Result-driven approach
A diverse team of social media experts
Cons:
May need more time for a complex video project
Limited physical presence in some locations
5. Sandwich
Average Pricing: Around $200,000
Target Industries: Startups, Established Enterprise, Finance, E-commerce
Top Clients: Descript, Stitch Fix, IPSY, Slack
Who They Are:
Sandwich is a video production company founded in 2009. They have a unique style in creating video content but prioritize delivering new ideas and making a positive impact.
Their team of professionals is expert in video marketing, and they excel in TV commercials, animations, social media videos, and more.
Pros:
Dynamic and unique video style
Diverse and talented team
Expert in social media content
Cons:
Limited pricing information
Possible limited availability for a rush project
6. Kyro
Average Pricing: Starts at $8,000
Target Industries: Retail, Established Enterprise, Finance, Start Ups
Top Clients: Nike, Amazon, and BeatsAudio
Who They Are:
Kyro offers video production services across diverse industries. They use video marketing to educate, inform, and empower the audience and drive results.
The video production agency specializes in full-range visual effects, personal-level script writing, editing, animating, directing, and audio design.
Pros:
Experienced and skilled team
High-quality and compelling videos
Diverse process
Cons:
It does not provide an instant quotation
Remote interaction for non-local clients
7. Demo Duck
Average Pricing: Starts at $16,000
Target Industries: Startup, Non-Profit, Educational, Healthcare, Corporate
Top Clients: American Cancer Society, AWeber, Prisidio
Who They Are:
Demo Duck offers video production services for startups and Fortune 500 companies. Their marketing video production services involve diving right into the understanding of the company, business, brand, and goals.
They have a team of writers, marketers, directors, animators, and producers that will help create corporate videos tailored to the needs of the business.
Pros:
Strong focus on business objectives
Transparent and collaborative
Produce impressive and high-quality video needs
Cons:
Possible higher pricing
Possible lengthy production time
If you want to work with creative talent, an expert team, and video experts but need help knowing where to start, sign up for Vidico's Vidifit quiz. In just 90 seconds, you can find the right video that meets your marketing strategy and gives you transparent pricing on how much to produce.
8. Quick Frame
Average Pricing: Starts at $600
Target Industries: Brands, Companies, Organization
Top Clients: NBC, Aveeno, Pfizer, Colgate, and Door Dash
Who They Are:
Quick Frame revolutionizes the traditional video marketing obstacles beyond connecting clients to video content.
They harness the power of machine learning and use a streamlined approach to ensure cost-efficiency, quick turnaround, and maximize your marketing impact.
Pros:
Cost-efficient production
Impressive video content at scale
Uses the latest technology in creating video content
Cons:
Limited scope for highly specialized projects
Potential reduction in creative control
9. BX Films
Average Pricing: Starts at $5,000
Target Industries: Retail, Established Enterprise, Beauty, Fashion
Top Clients: Toyota, Cisco, Vivino, Lime Cube
Who They Are:
BX Films is one of the corporate video production companies in the San Francisco Bay Area, offering services for visionaries and trailblazers.
From concept to consumer, they go the extra mile and utilize digital strategies to amplify the message of your business. In addition, they take each story to new heights and create videos with lasting impact.
Pros:
Full-service marketing services
Utilize industry-leading techniques
Dedicated and expert team
Cons:
Geographical coverage can improve
Needs improvement on availability and scheduling
10. Early Light Media
Average Pricing: Undisclosed
Target Industries: Marketing, Corporate, E-Commerce, Finance,
Top Clients: National Geographic, Pandora, Microsoft, Under Armour
Who They Are:
Early Light Media is one of Baltimore's great corporate video production companies. The video production agency has an impressive background in documentation and journalism.
Early Light Media delivers award-winning work, from corporate video and documentary films to marketing, explainer video, and animations.
They have earned praise from satisfied customers and numerous awards like the EMMY and ADDY.
Pros:
Impressive geographical coverage
Professional and Creative team
Creating a premium video project
Cons:
No specific pricing information
Client coordination can improve
11. StoryTailors
Average Pricing: Undisclosed
Target Industries: Journalism, Corporate, Services, Established Enterprise
Top Clients: DHL, FIFA, ORACLE, UNICEF, Netflix
Who They Are:
StoryTailors is a global video production company that offers complete business video production services. The company has a network of experts in 100+ countries around the world.
The company ensures easy access and fast support anywhere in the world. From location to equipment rental, film crew sourcing to video services, StoryTailors got it covered.
Pros:
Expert project managers
Quality assurance
Flexibility in equipment
Cons:
Limited information on pricing
Post services can improve
12. ECG Productions
Average Pricing: Undisclosed
Target Industries: Education, Food & Beverage, Sports & Fitness, Established Enterprise
Top Clients: Wal-Mart, James Patterson, UGA SBDC
Who They Are:
ECG Productions is an award-winning video company based in Atlanta, Georgia. They can create captivating content for your business with cutting-edge technology and a wealth of experience.
ECG's dedicated team ensures unparalleled customer experience, creativity, and precision.
Pros:
Wide range of video types
Great customer service
Impressive equipment and the latest technology
Cons:
Limited information on pricing
Needs improvement on project delivery
13. 90 Seconds
Average Pricing: Starts at $2696
Target Industries: Marketing, Advertisement, Recruitment, Walkthrough, Brands
Top Clients: Paypal, HP, Amazon, Unilever
Who They Are:
90 Seconds is a leading video creation platform that creates marketing videos for top brands around the world. They have access to over 13,800 creators in 160+ countries.
They offer diverse expertise in storytelling, videography, directing, editing, animations, documentation, etc.
Pros:
Global video production
Authentic and premium videos
Simplified production process
Cons:
Possible limitation on individual creator control
Potential communication challenges
14. Cue
Average Pricing: Undisclosed
Target Industries: Government, Business, Education, Music, Society & Culture
Top Clients: Podcast.co, Tech Nation, CLES, Man Power
Who They Are:
Cue Podcast is a full-service podcast agency that produces exceptionally well-produced shows for business.
Collaboration is the core of the work, and they are committed to understanding the goals of the business and resonating with the right audience.
From concept to post-production, Cue Podcasts offers end-to-end support to create audio content.
Pros:
Award-winning podcast production company
Comprehensive service from concept to distribution
Insightful analytics
Cons:
Niche focus on audio content
Potential competition in the podcast industry
15. Indigo Productions
Average Pricing: Starts at $10,000
Target Industries: Healthcare, Business, E-Commerce, Retail, Established Enterprise
Top Clients: Sony Pictures, Samsung, Citibank, NYU
Who They Are:
Indigo Productions is an award-winning company based in NYC, and they offer a range of services from preparation and production to post-production.
Their dedicated team of producers, writers, directors,s and creatives collaborates closely to produce award-winning videos, virtual events, and commercials.
Pros:
Global reach and experience
Impressive production services
Wide selection of video types
Cons:
Specific pricing is not readily available
Limited information on turnaround times
If you're searching for a highly involved and hands-on video production company throughout the entire process of your video marketing strategy, Vidico is deeply engaged and committed to bringing your vision to life. To know more about Vidico, the right video content, and its cost, try our Vidifit quiz for FREE.
What's A Professional Video Production Service? 
A professional video production service specializes in crafting top-notch videos tailored to diverse needs.
With expertise in all stages of production, they meticulously plan, execute, and manage three stages of video production.
From story conceptualization to the final product, they ensure seamless and captivating visuals that effectively convey messages, entertain, or promote businesses.
Learn how to make an outstanding instructional video here.
What Services Are Included? 
Pre-Production Services
Pre-production services involve concept development, scriptwriting, storyboarding, and planning the logistics of the shoot.
Production Services
Production services include on-set filming, capturing footage, managing equipment, and directing the shoot.
Post-Production Services
Post-production services involve video editing, adding visual effects sound effects, and finalizing the video for distribution.
Why Work With Vidico 
Transparent Pricing
Hiring Vidico ensures you'll receive transparent, upfront pricing for your project, eliminating hidden costs. This transparency fosters trust and allows you to plan your budget effectively.
Strict Quality Control
Our stringent quality control measures guarantee that each video meets the highest standards, leaving a lasting impression on your audience and reflecting positively on your brand.
Result-Oriented Video Production Company
We align creative efforts with your goals; they ensure that your investment in video production yields significant returns and contributes to your overall success.
You may also want to check out some top-rated training video production companies here.
Dedicated Team of Experts
The Vidico team's passion, experience, and skills bring life to your vision, ensuring a captivating and engaging video that resonates with your target audience.
Full Management
By entrusting your project to Vidico, you can relax, knowing that every aspect of production is taken care of.
From concept development to final delivery, they handle the entire process efficiently, freeing up your time and energy to focus on other critical aspects of your business.
Best Video Production Companies FAQs 
How much does it cost to have a professional video made?
Professional video costs around $5,000 to $100,000 or more. The costs vary based on complexity, length, and equipment used.
Is videography a professional service?
Yes, videography is a professional service specializing in capturing video footage. It is a critical element in the video production checklist.
Is it worth hiring a video production service?
Yes, hiring a video production service is worthwhile for high-quality, compelling videos. As the virtual market and influencers rise [3], their expertise ensures better results and saves time.
What's the difference between videography and video production?
Videography focuses on filming footage, while video production encompasses the entire process, including pre-production, editing, and post-production.
Final Word
Ready to elevate your brand's presence and captivate your audience?
With Vidico's expertise in crafting compelling videos that drive results, we'll help you tell your story most engagingly [4]. Take your brand to new heights with Vidico today!
Get a free and instant quotation for your next project with our VidiFit quiz. Our team will help you choose the right type of video for your goals and give transparent pricing in just 90 seconds.
References:
https://fortune.com/ranking/fortune500/
https://www.investopedia.com/terms/r/returnoninvestment.asp
https://www.forbes.com/sites/forbescommunicationscouncil/2022/10/18/the-rise-of-virtual-influencers-and-what-it-means-for-brands/
https://www.globenewswire.com/en/news-release/2022/08/12/2497652/0/en/Video-Production-Company-Vidico-Launch-Rebrand-To-Offer-Their-Customers-Clarity-Precision-And-An-Even-Higher-Level-Of-Communication.html