Ask any business leader what their company's top priority is, and they will recite a well-spoken speech about supporting and keeping their customers happy—which is undeniably true. 
Quality customer service is a top priority everywhere. But studies show that most companies' customer service makes their potential buyers look elsewhere. 
Here are some facts that support this:
This simply means that even as most companies strive to provide good customer service and take steps to do so, they usually fail. 
In this article, we're going to show you the major obstacles to your customer support operations and how you can address them. 
Why Your Clients Are Not Satisfied With Your Customer Support Team In The First Place
There are a thousand buckets poor customer service can fall into. For the sake of being thorough, let's discuss the top reasons your CS team is truly failing to please your customers. 
No clarity into your customer support—leaving your customers more confused than ever before
It is quite clear that the primary goals of customer service are to answer customer questions and resolve problems, quickly and efficiently. But very often, customer service departments' fail these goals. 
Ultimately, it's the customer experience that takes the hit. Here are the top scenarios that explain this:
Passing customer reports from one agent to another.
This practice not only leaves your customers confused, but it also leaves them dazed and frustrated. Even if you have the best product, passing customers between multiple members and having them retell their story is the easiest way to show them the exit door to your business.
According to Bain and Company, a customer is four times more likely to buy from a competitor if the issue is service-related rather than price or product-related. Additionally, American Express found that most Americans decided not to purchase because of a poor customer service experience.
Poor choice of communication channels and tools.
The tools your customer support team uses to communicate with your product users can make or break the customer experience. Some companies use email, some prefer live chat, phone support, etc. 
But what do your customers prefer? Many businesses have switched to email support and it didn't work. Companies don't spend time trying to understand what channel works best for their customers. At the end of the day, if your customers can't contact you, you're limiting them—and yourself. 
Failing to balance meeting and exceeding customer expectations.
Most companies firmly believe that addressing the unique pain points their customers manifest is not enough. They feel they must go the extra mile, anticipate potential problems or provide additional customer support materials, just in case. 
While this may seem like a good idea, in the end, it's more confusing than helpful. According to the Harvard Business Review, one of the most common consumer reactions to excess is to abandon a purchase altogether. The implication for customer services is clear: too much information will completely paralyze your efforts. 
The average people don't have technical skills—your customer support team assume your clients do
Jargon is one of the most frequently complained-about communication issues in business interaction. This mainly happens when your agents fail to notice that they often use terms that may be difficult or meaningless to clients. 
Simply because someone is using your solution doesn't mean they're familiar with the technical jargon and back-end side of things. In fact, studies show that 76% of customers want to be talked to in everyday language. 
Similarly, a literature review on business jargon published in the American Journal of Industrial and Business Management showed that it hinders communication and business success. In fact, it obscures the meaning of your message, and your customers' problems remain as they were reported: unaddressed.
You must also consider the impact on your business. Think about it. If you provide resources that fail to solve your target audience's problems because of technical jargon, that's investment down the drain, and valuable time you won't be able to recoup.  
There may be some more appropriate terms for a particular audience and maybe the most precise way to communicate with that audience. Going beyond the technical requirements will, however, cause confusion and alienation.
Your customer support team are tired and are not handling support the right way
Your customers want their problems solved quickly, with as few complications as possible. But, this is hardly what happens. Studies show that customer complaints take an average of 1 to 3 days to resolve with customer support agents. Moreover, it can require tedious and time-consuming back and forth calls or outreach emails. 
With this in mind, it makes sense to ditch the tedious interactions and design scalable, more engaging customer service materials. Companies need to ensure that customers are able to find answers to their questions using a diverse spectrum of self-service customer support materials.
According to Zendesk, 91 percent of customers prefer to use an online knowledge base if it's available and tailored to their needs, and 67 percent prefer self-service rather than talking to a company representative.
Incorporate Video Into Your Customer Success Process—And Make Your Clients Happy Again
There are two main reasons why your customer support team needs to embrace using video for interacting with your customers. 
Videos explain things better

.
Using video is the best way to solve customer problems quickly and effectively. Videos allow you to show and explain at the same time. Viewers can see and emulate your recommendations as you describe. You can easily bring complex concepts to life and explain things with more spot-on examples. 
Video explains enormous quantities of information in very little time, and ultimately, it speeds up the resolution process.
Your customers love videos.
With video taking over customer-business communications, it only makes sense that both customers and businesses are well served when video is used. A study showed that 59% of customers say that they will most likely choose the video if both text and video are available on a topic. 
Moreover, according to Wyzowl, 68% of people would rather watch a video to solve a problem with a product or service instead of getting in touch with the business's support team. Videos improve your approach to problem-solving and make your customers happier with the support experience compared to other means of support. 
The process also enhances customer retention by helping them get more value from your product or service. 
Here is how you can use video in your customer support endeavors. 
Build a video library
In a study, Social Media Today found that 70% of customers prefer to use a company's website to get answers on their own. With that in mind, building a video library that covers all potential user concerns and issues is the best way to ensure quality customer support service. 
Here, you need to work hand in hand with a video production team to create a video knowledge base. The videos will act as support materials your customers can refer to for self-service customer support. Plus, it will serve your customers 24/7, no matter what walk of the world they're in. 
Here are video types you can leverage to build up the library. 
Onboarding videos
Getting started with an unfamiliar product or software tool can be challenging. Similarly, it can bring up a lot of questions and challenges. That's why you need unique onboarding videos to break the ice and set your customers up for a good UX. 
Pain point related videos
Talk to your existing customers and find unique pain points your future customers might need help with as they engage in using your solution and create memorable videos that address those pain points. Creating easy-to-understand pre-packaged video instructions will be key to making this work.
Tutorial videos
Tutorial videos are great for customer support, especially when your customers struggle to achieve their goals or use your product or solution to its full potential. You can create unique training and educational videos to show your customers how to use your product or service to achieve specific goals. 
It's also the perfect video to reveal features useful to them. You can further expand these videos into a full-fledged support powerhouse for new and existing customers. 
Walkthrough videos
You can walk your new users through setting up their accounts and getting started with your solution. You can provide a quick tour of the different features related to their unique needs and provide explanations to make sure they navigate seamlessly. This is especially important if you're a SaaS company or a business with complex products.
 FAQ videos
List down the most commonly asked questions about your product, service, or business and create short videos answering them. It's best to refer your customer to these videos for self-service rather than deploying a customer support team. 
Encourage live and personalized videos — though those are not as scalable as the videos type above
Contact centers and customer service will soon be dominated by live video chat. According to a recent research study, one out of five of the world's largest companies will adopt live chat support by this year. Customers can directly contact customer service agents via video chat in real-time and get their questions answered effectively. 
For businesses today, live video chat is a competitive differentiator and can provide a personalized experience for customers. 
But it also poses scalability challenges. Creating a knowledge base allows you to create scalable assets that your customers can refer to at any time. 
But using live chat requires a full-time customer support team and constant monitoring. You may also have to answer the same questions every time and provide the same assistance repeatedly to different customers. 
Examples of brands that leverage video to improve customer support and results they've gotten
Here are some of the companies you can learn from when using video for customer support activities. 
Airtable: Offering a free, on-demand training webinar—covering topics and helping users explore the software 
Airtable offers a comprehensive training webinar to educate users after their onboarding. They have created a video knowledge base that helps users learn more about Airtable and how it can help them manage their work. 
Also, there are videos covering unique tips or best practices on using the tool. Each video features an Airtable expert explaining and providing visual cues through the session, step by step. Here is a screenshot from the support page.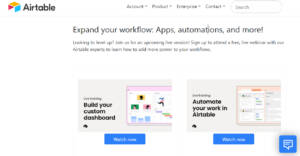 IKEA Sweden: Using live video chat support for solving problems in real-time 
Given the range of products that IKEA sells, we can say that the average Joe will have a lot of trouble with the installations if he is not familiar with the furniture, and certain processes can be time-consuming for them. 
Even worse, it will be more or less difficult to put the situation into words for the customer support team to devise the appropriate help. Consequently, getting help through simple emails or calls to customer support will be more difficult. 
So, as a solution, the Sweden division of IKEA had the brilliant idea to install live video chat on their website, which allows them to chat with customers and provide them with the necessary help in real-time.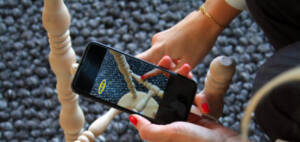 The support agents are able to get a deeper understanding of the situation through visual cues and everyday language. And so, they're able to provide more handy help. Here's what Rickard Månsson, Customer Experience Business Developer at IKEA Sweden, thinks: "Customers need to send photos, emails, and so on," he explains. "With video, it takes us seconds to analyze the situation."
It's time to build your video library
Using video for your customer support materials gives you a competitive edge over the competing companies and allows you to improve your customers' support experience. That said, building a video library is the most sustainable way of using video for customer support. It can also be great to have live video chat support for specific needs. 
A video library dispenses you with all the scalability and customer engagement issues. You'll be able to design support materials they love and continually refer back to 24/7 for self-service. This also implies that your customer support activities will run autopilot. You will save a lot of time and keep your customers happy. 
We've designed videos for top companies in diverse industries and have gotten excellent results. If you are interested and would like to start using videos for your customer support endeavors, you can get an estimate of how much your video will cost here.