The best way to ensure you are creating quality video content is to work with a top video production company. Gone are the days when we discussed the importance of video in marketing. 
Video is now more effective than ever, but the first step to success is to create quality videos. This brings us back to the question of how to hire the best video production company? 
So, how do you choose the best company to produce your videos?  
In this article, we will discuss the things you need to consider when hiring video production companies to produce your videos. So let's get started.    
Experience: How long have they been in business, and do they have clients of a similar scale as your company?
A proven track record of good work and service to leading companies translates into years of credibility and trust. This is simply because no video company can stay in business long enough or serve leading companies if they are bad at their job. So, if you want to get quality videos, you need to opt for an established company that knows its way around the art. 
First thing, you need to be sure they've worked with companies of a similar scale as yours. For example, assuming you're a Tech SaaS company with a B2B audience, these are the values you can rely on to qualify their experience: Tech, SaaS, and B2B. 
Second, you need to ensure they deliver on their clients' expectations and that their videos get great results across the board. 
Where do we stand amid this?
At Vidico, we only define ourselves as a high-quality video company. As far as verticals go, we've worked with both companies from different industries—from tech to eCommerce to food to transportation companies in the B2B and B2C areas. 
We've quite made it a tradition to always work with market leaders. We have worked with more than 200 companies including, Square, Amazon, Uber, Samsung, Koala, Airwallex, and Digital Ocean.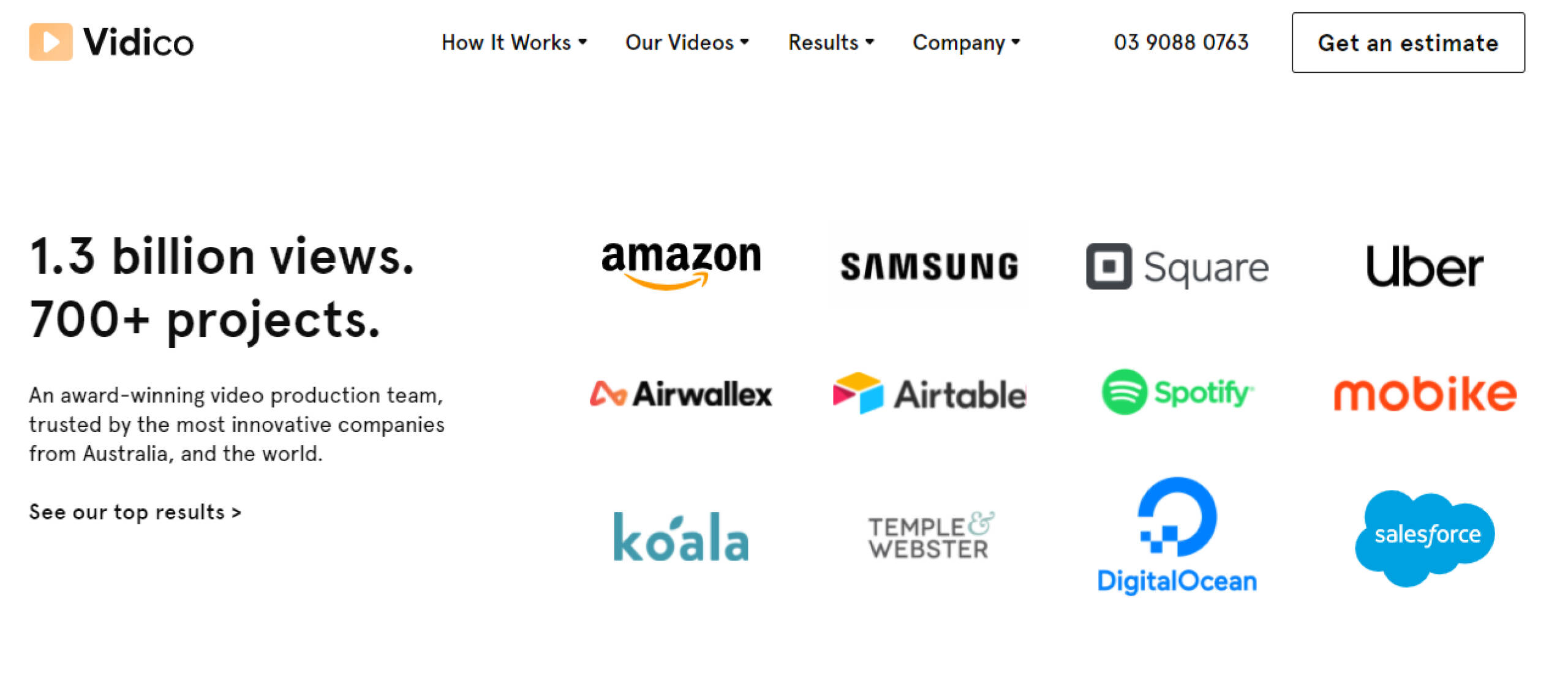 Our company has consistently received five-star reviews throughout its history, and we've racked up over 1.3 billion views in the last twelve months. With that in mind, there's a good chance you've seen one of our videos if you live in the US, Canada, UK, or Australia.
Portfolio: What are their best videos, and how do they compare to what you're looking for?
Every company offering a service online has a library where they display their most prominent exploits; it's called a portfolio. 
It serves as proof of concepts for the different claims they make in their marketing endeavors and helps show potential customers what they can expect from them. So, as you weigh up different video production companies, the portfolio is an excellent place to look into. 
Portfolios allow you to see the quality of their work; you can determine whether they match your vision and deliver exactly what you are looking for. 
For example, you can gain insights into the different types and styles of video they create. Then you can consider what you want and determine whether they're a fit. This is very crucial in hiring a video production company.
Where do we stand amid this?
At Vidico, we've worked with many businesses across the web, and we've created all sorts of videos for them. Whether you want an explainer video, brand videos, app videos, career videos, or case study videos, we've got you covered. 
As for video styles, we helped many companies with animated videos, screencast videos, overlay videos to live-action videos. Here's our video library where we display our scope of work to show you how we fit into what you're looking for.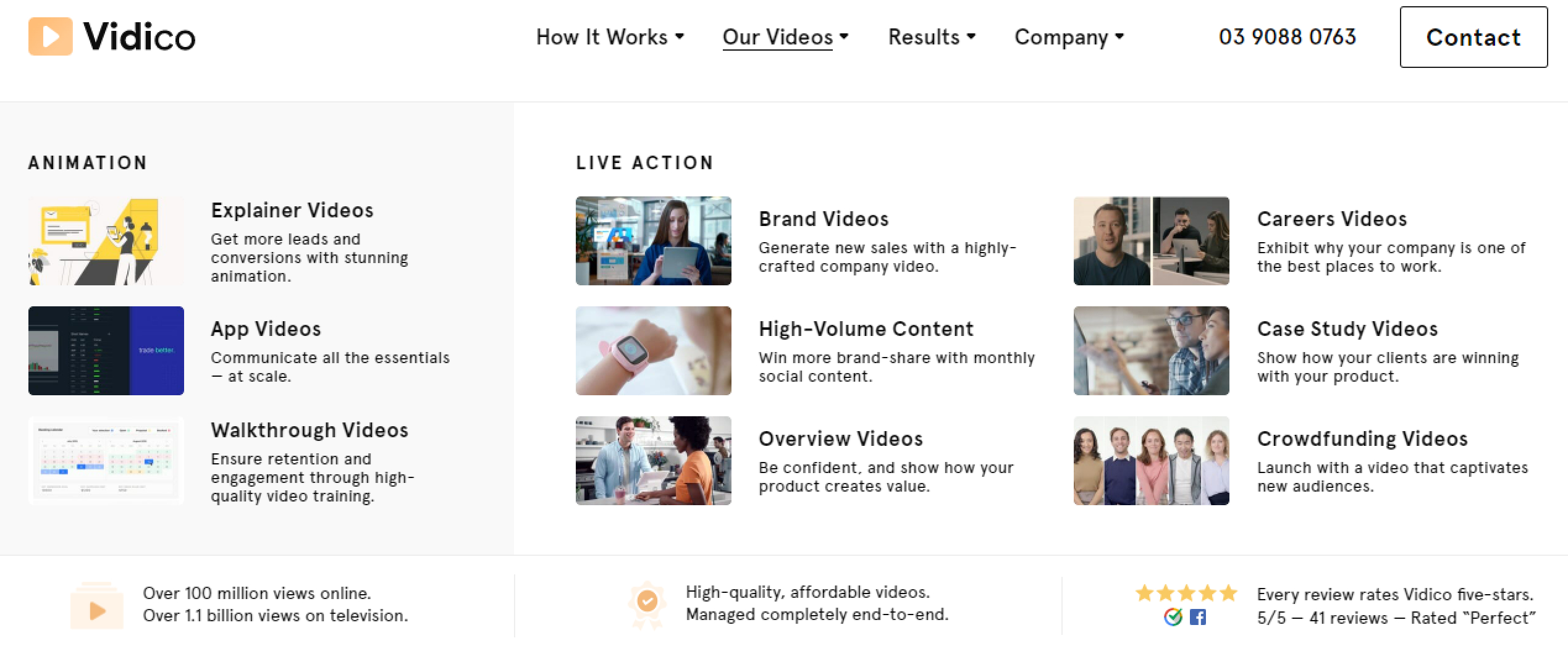 Production Team: What's their talent crew and logistics?
You will want to make sure that you hire a video production company with a professional team that can provide you with the best videos possible. Besides, you will also want to make sure that the tools they use will not crumble the quality of the video. By getting this information before the project begins, you will learn more about their work and understand their pricing.
Where do we stand amid this?
At Vidico, we take our job seriously. All we ask from our clients is a detailed briefing and clear objectives. Then our team takes it from there. You can think of our approach to video production as end-to-end. Why is that?
First, we use the same video production equipment like the ones used to produce your favorite Netflix series. Second, for every project, we build a team of video marketing professionals covering all aspects of marketing video creation. 
We live by quality work and video content that far exceeds expectations. So, we make up our team of expert directors, designers, cinematographers, and technologists who take care of the creative approach according to the client's objectives.
Production Cost: Get an estimate and see how it fits your budget.
There is no standardized pricing for video production, and no company tags their videos with a specific price on their website. Still, you can be sure that video content has a lot of requirements and so comes at a high price. And so you need to get an estimate of the cost based on your unique needs before the get-go. 
To do this, most companies will require you to call or talk to their sales departments just to give you an overview of their pricing. 
Where do we stand amid this?
At Vidico, we offer a much more convenient alternative that doesn't require you to make calls until you are sure you are getting what you want.
We have developed VidiFit. It's a quiz-based program that you fill out to find the right type of video to meet your marketing goals and get a high-level estimate on how much it would cost to produce it.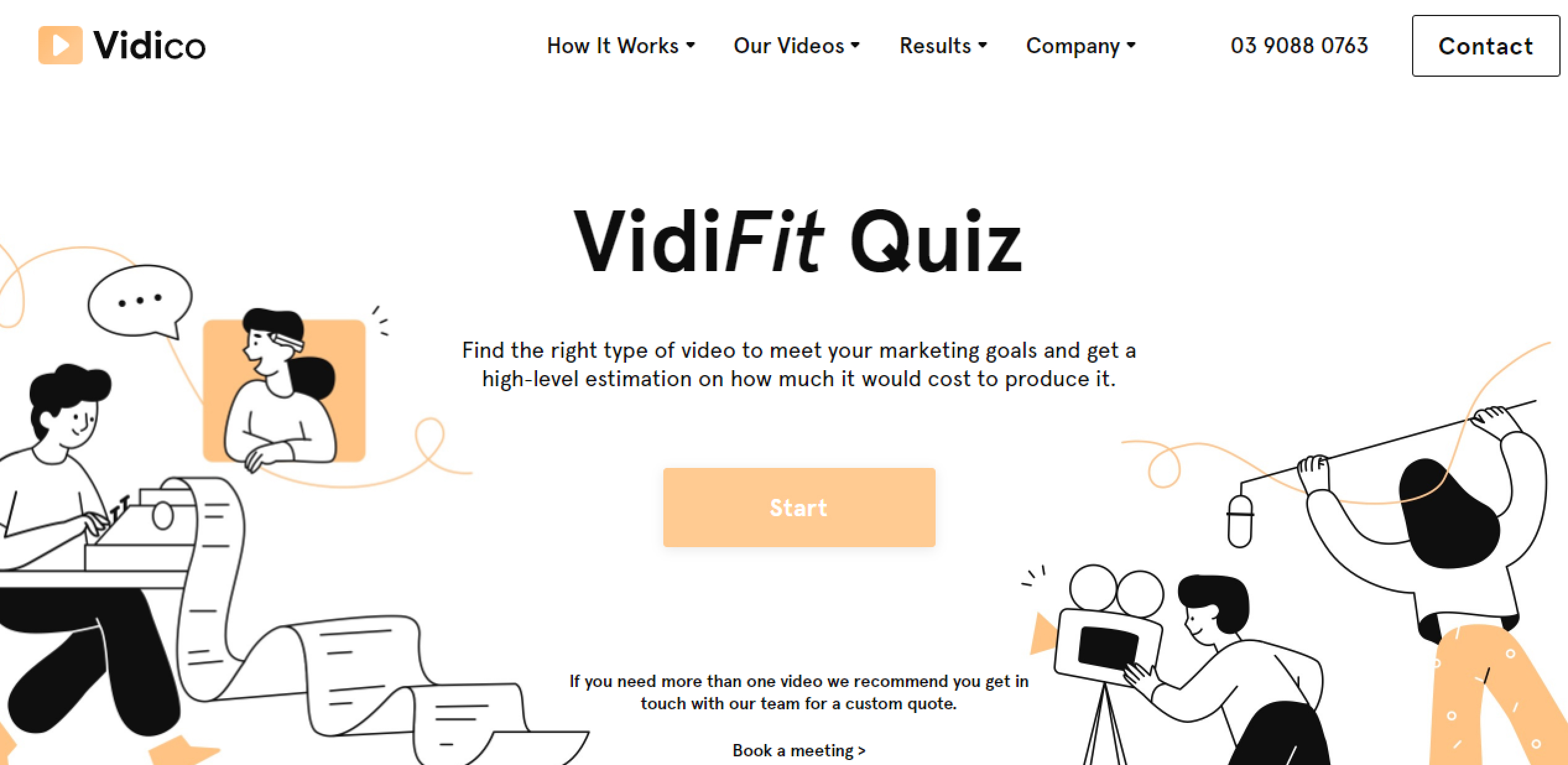 Let's give you a breakdown of the eight questions you'll be asked and how they translate into the final price estimate. 
First, you need to choose, from a general point of view, the style of video you are looking for. 
This helps us understand what it will take to produce your video and the stakeholders we need to involve in the project. So, let's assume that a live-action video matches your goal best. So, you choose "live-action".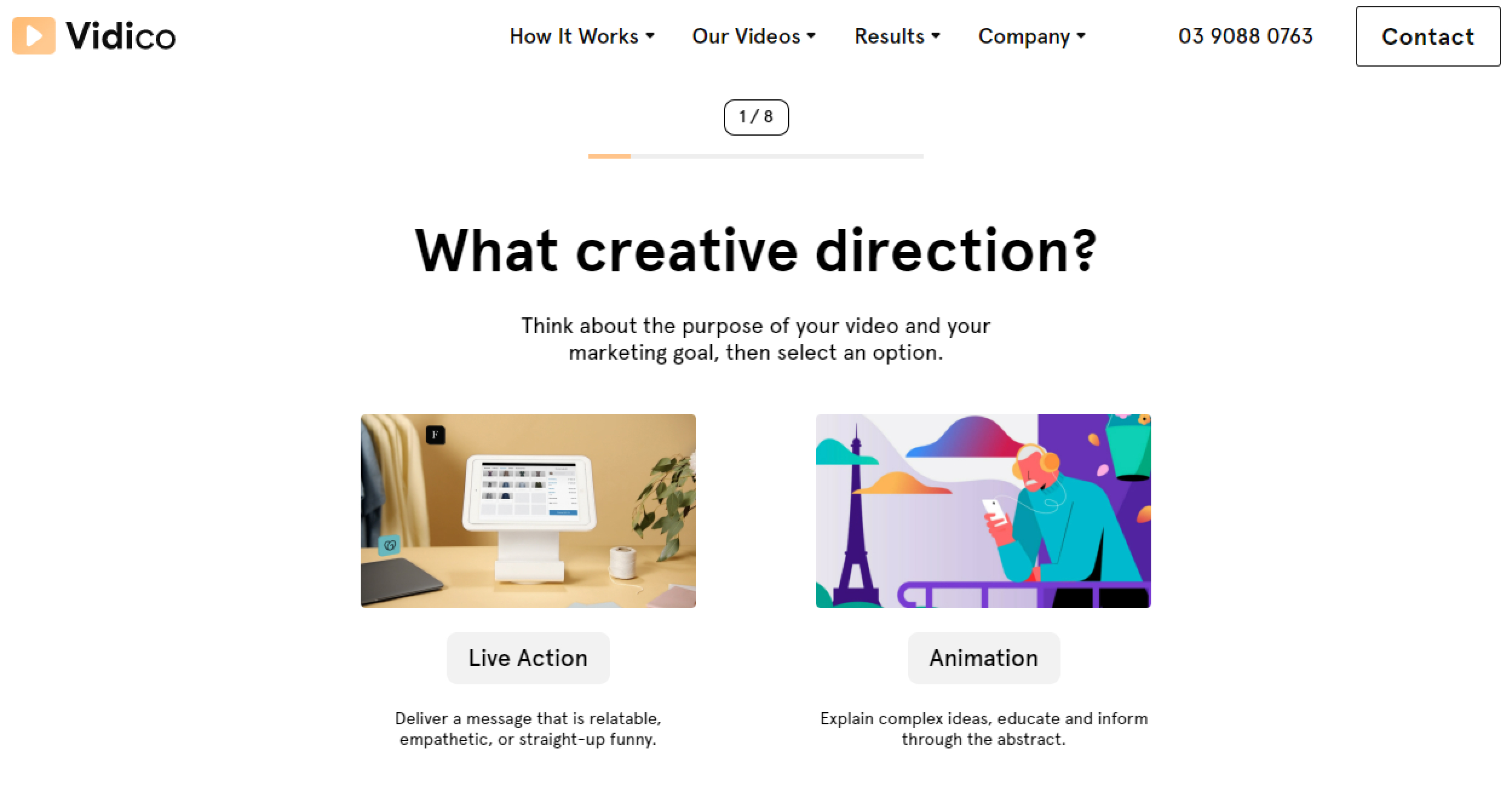 Now, we want to know what type of video you're precisely looking for. We provide the different marketing video types to help make a sound choice. Let's say you want a brand video.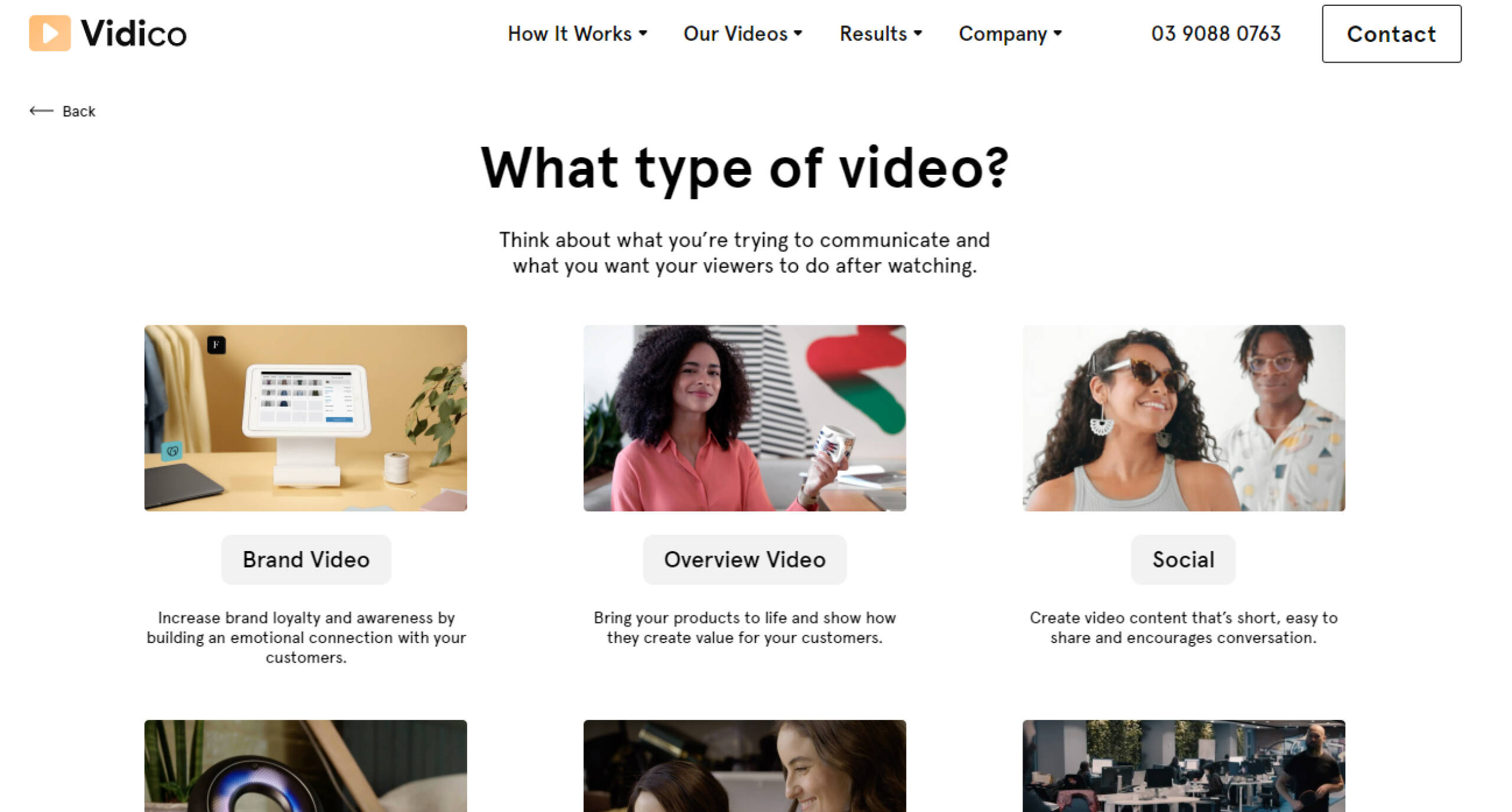 We need to know the scope of work we should expect from you. As you can tell, we don't charge the same for one-off and recurring projects. 
If you entrust us with a routine project as part of a consistent content marketing strategy, the price will be lower. So, let's assume you want three videos produced on a regular basis.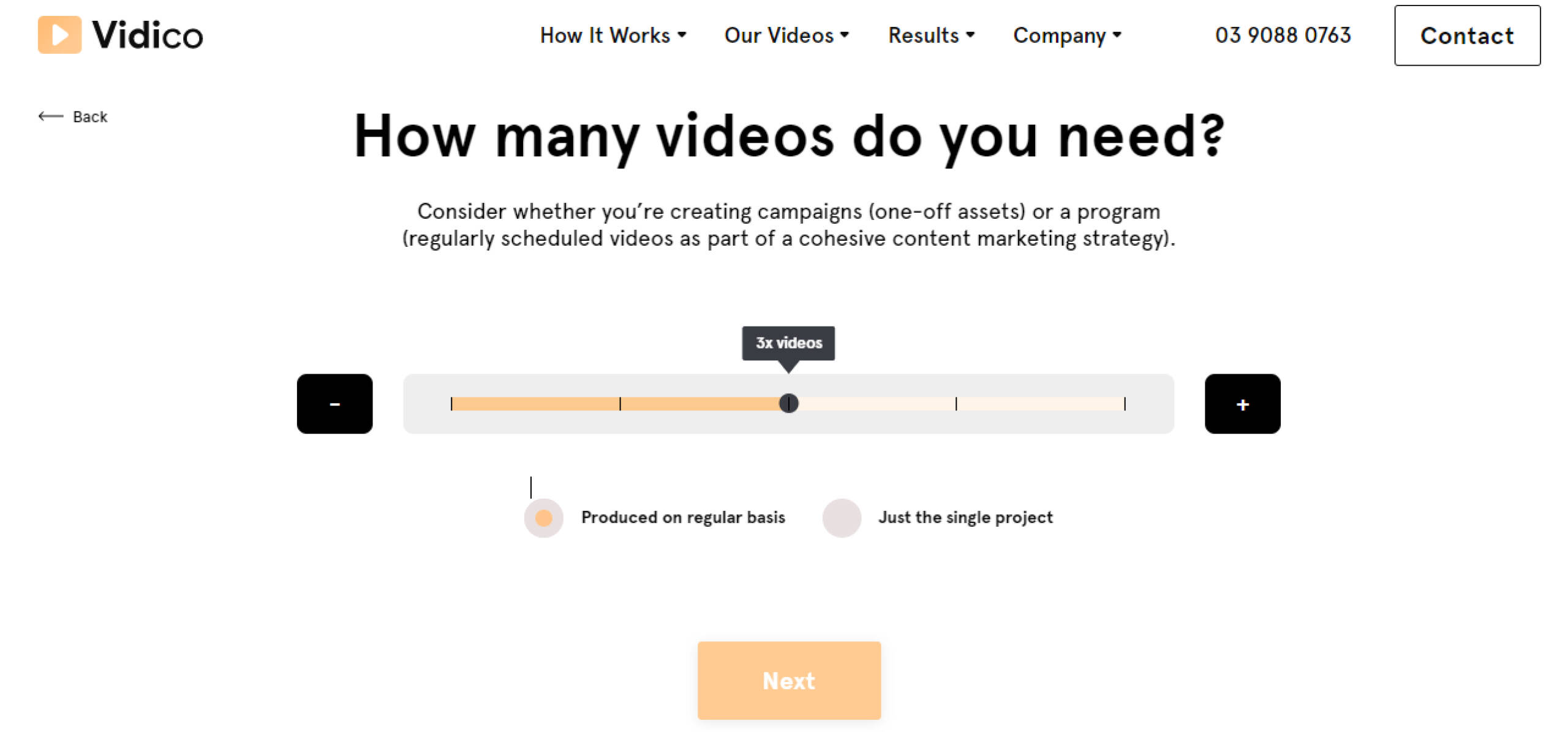 Next, you'll need to tell us where you want to post the video. It helps target the video to the specific audience and tick all the requirements checklist to ensure maximum engagement to your videos.
Keep in mind that you can choose as many destinations as you want. Let's say you want your customers to see the videos on your website, Instagram, and TV.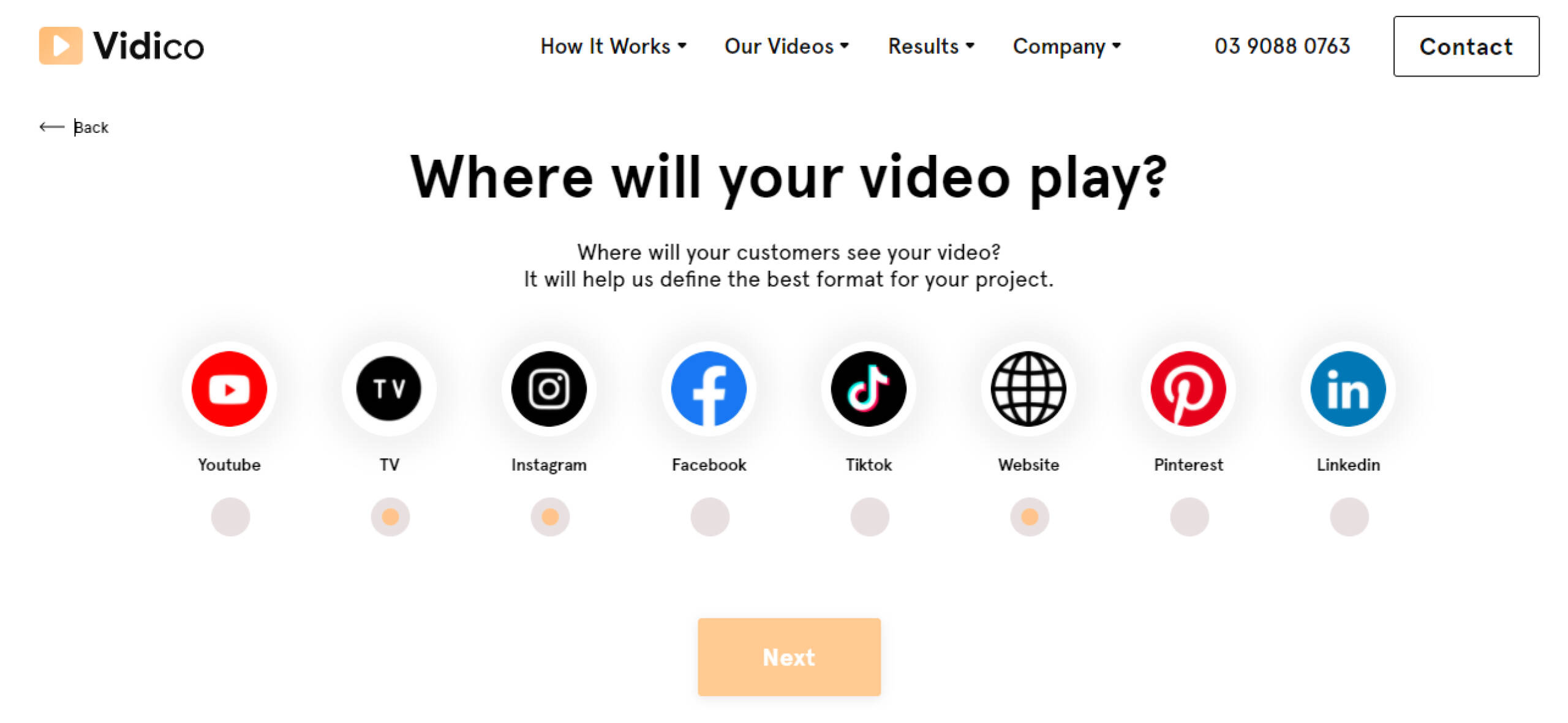 Next, you'll need to choose the average length of your video. Brand videos are not to be too long. So, let's say you choose 60 seconds.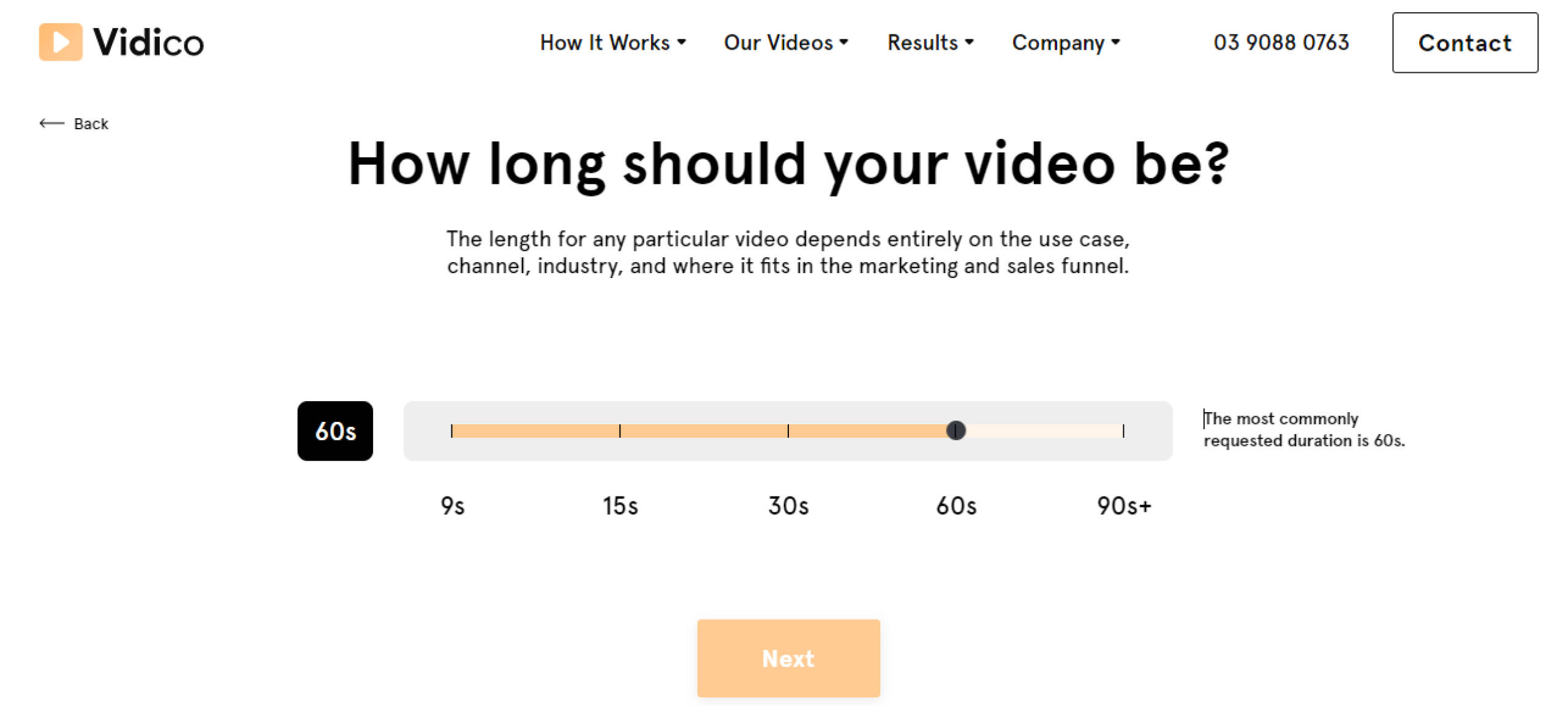 After this, we'll need to have a clear idea of the creative involvement you need from us. So, you need to let us know whether or not you want us to provide you with the scripts. For the sake of getting a complete estimate, let's suppose you want our team to take care of the scripts.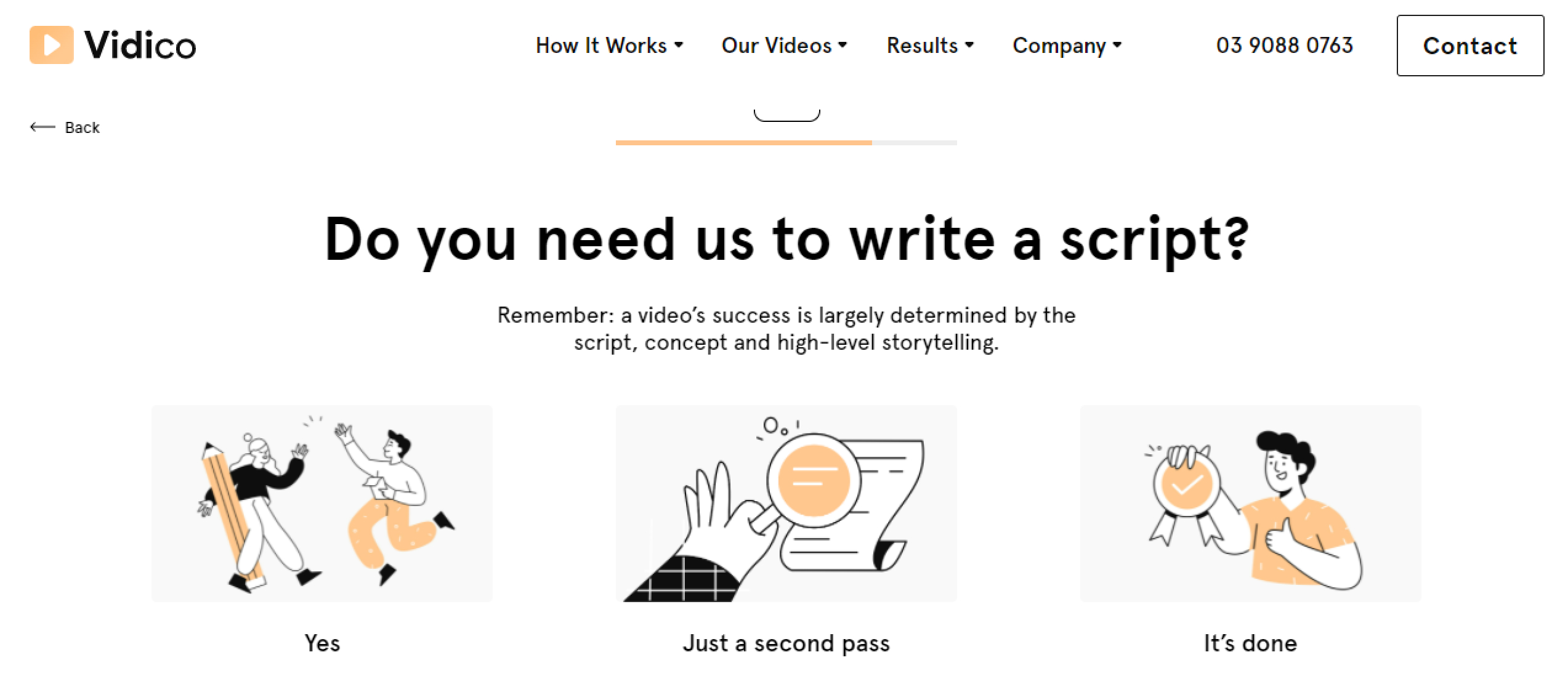 By now, you're all set. You just need to provide us with your "work email" to send the estimate report.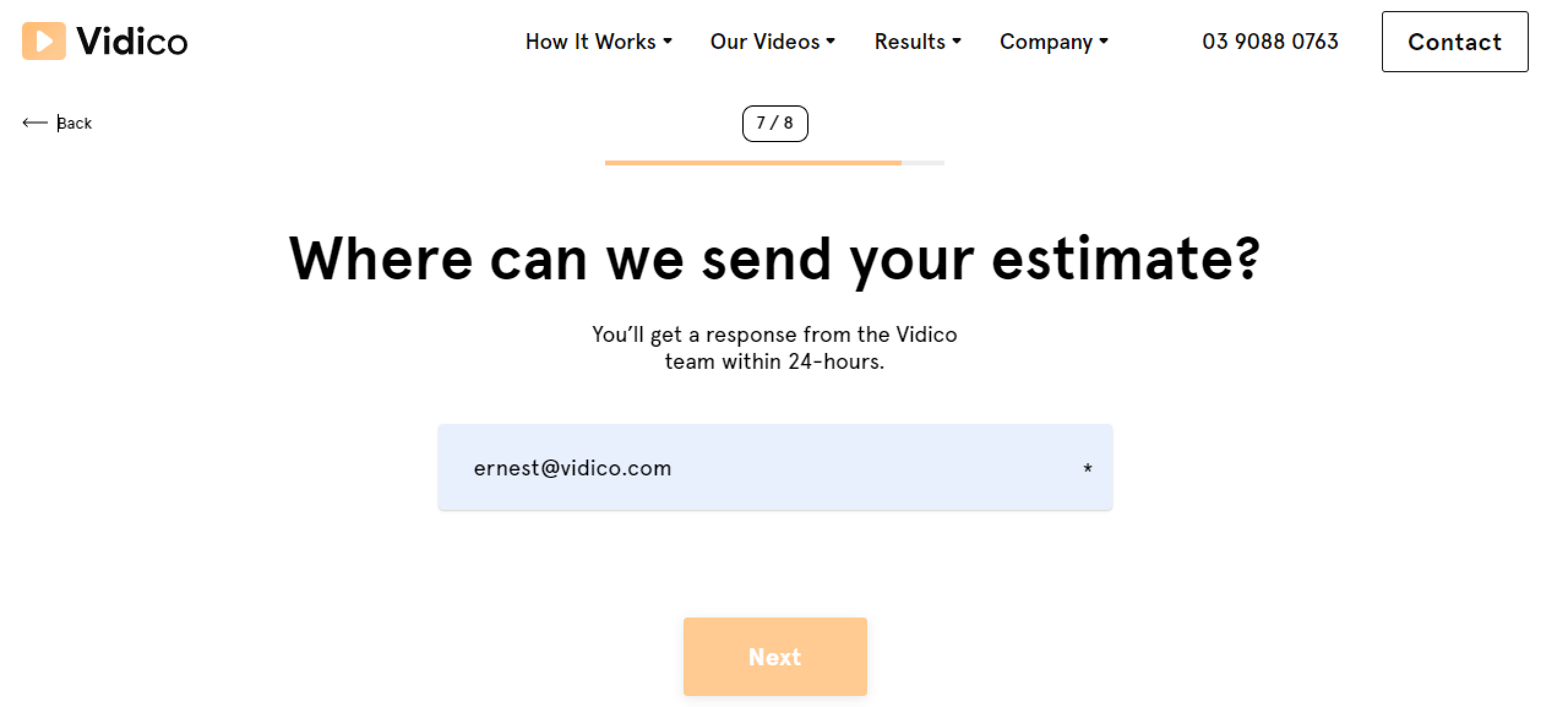 Last step. You need to provide us with a brief and little information about you and your business.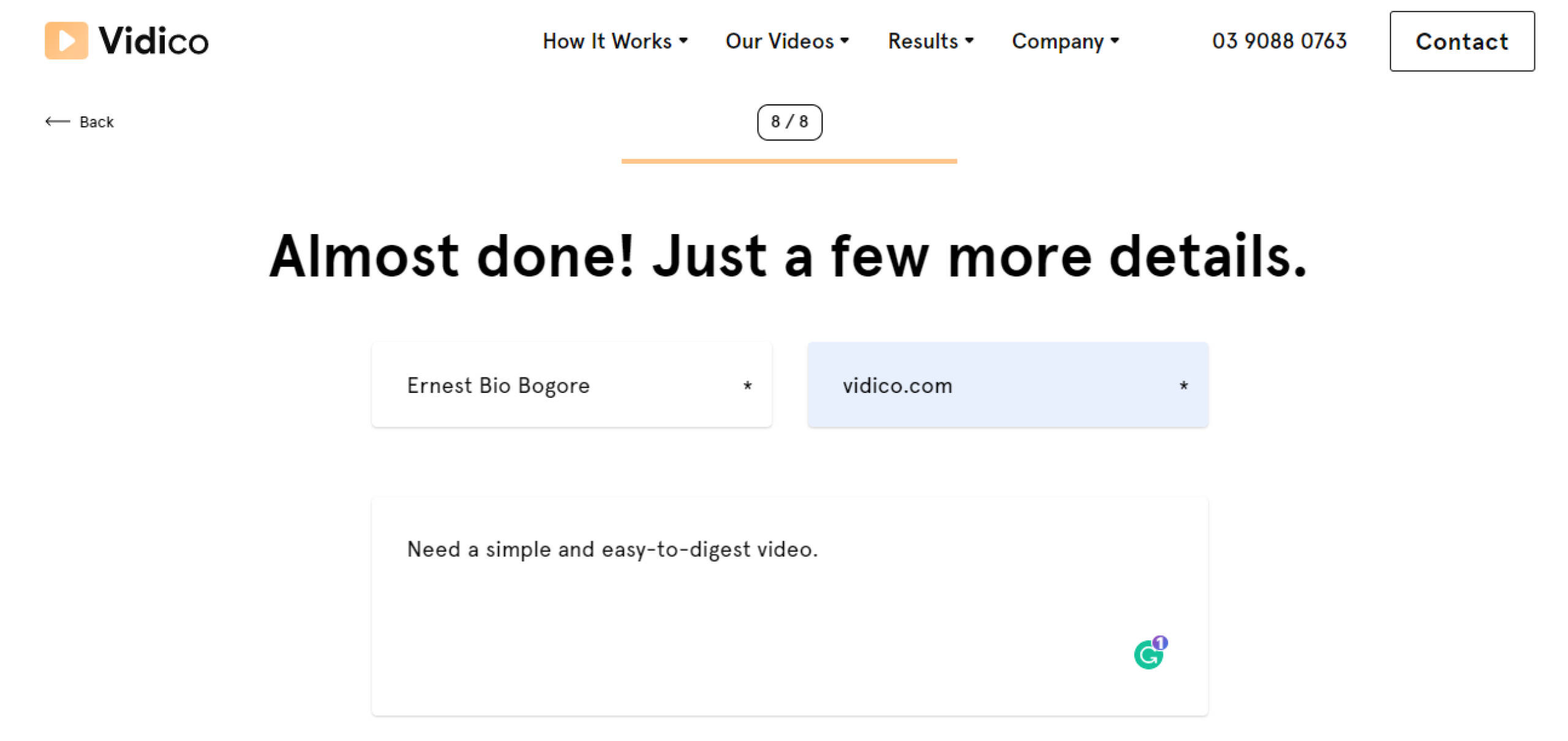 Now, as you validate this, you can see an overall estimate of how much it CAN cost to produce your videos.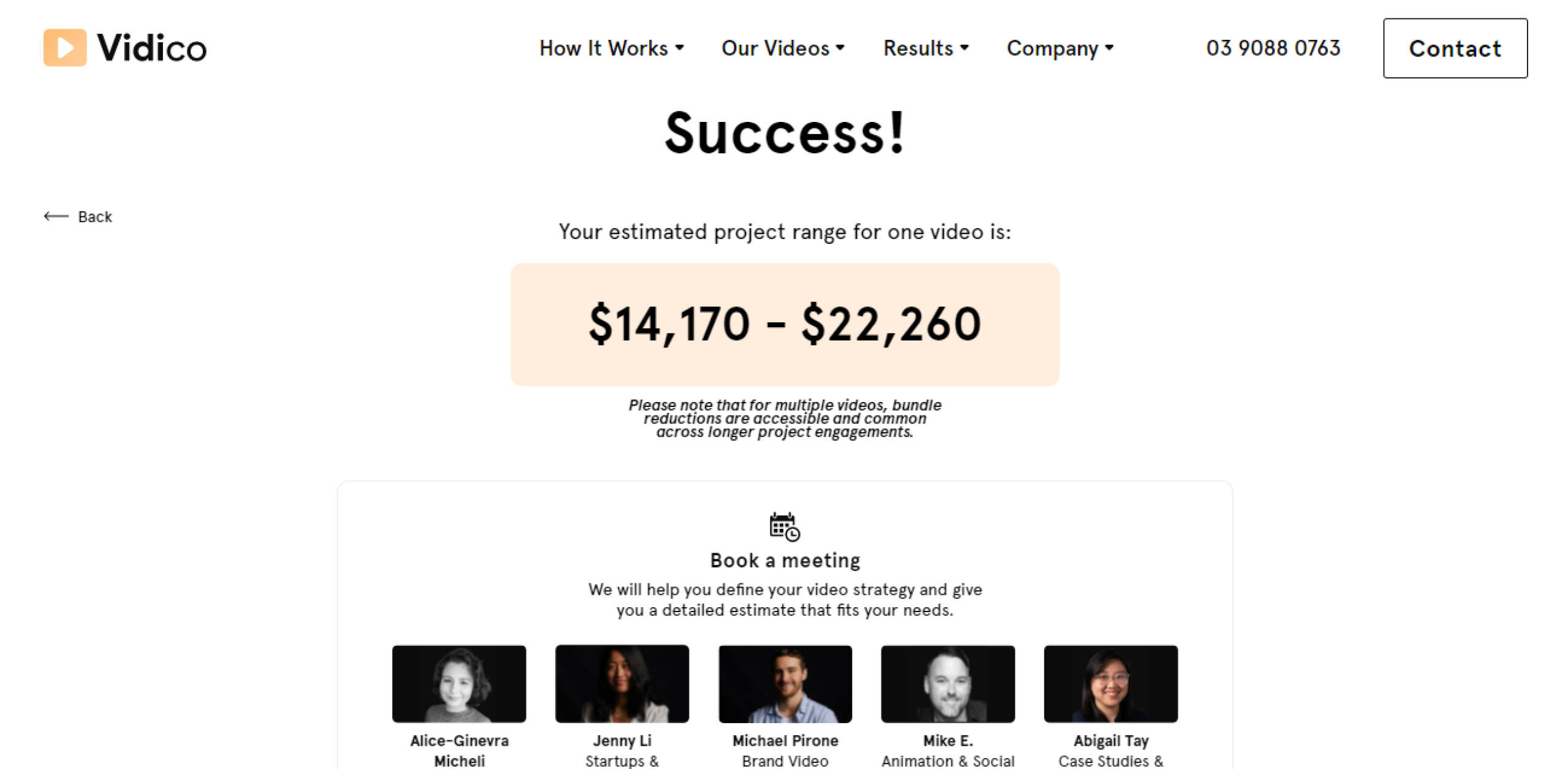 Note: This estimate is just to give you a broad idea of what it might cost you. We always provide a more in-depth estimate report via email to provide you with a clear picture of the financial requirements and the overall price. 
Professionalism: Are they easy to work with?
Even if the company produces the best videos but proves unprofessional or difficult to work with, that's a red flag; you need to reconsider your choice. Working with an inexperienced team will only result in sluggish and mediocre work and an overall bad experience. 
Now, there is no way you can measure or tell whether or not they're professional, especially since you've never worked with them. Nevertheless, you can always check what others think of their professional nature by reading their customer reviews and testimonials.
Where do we stand amid this?
Here is what a few of our clients think of our work at Vidico.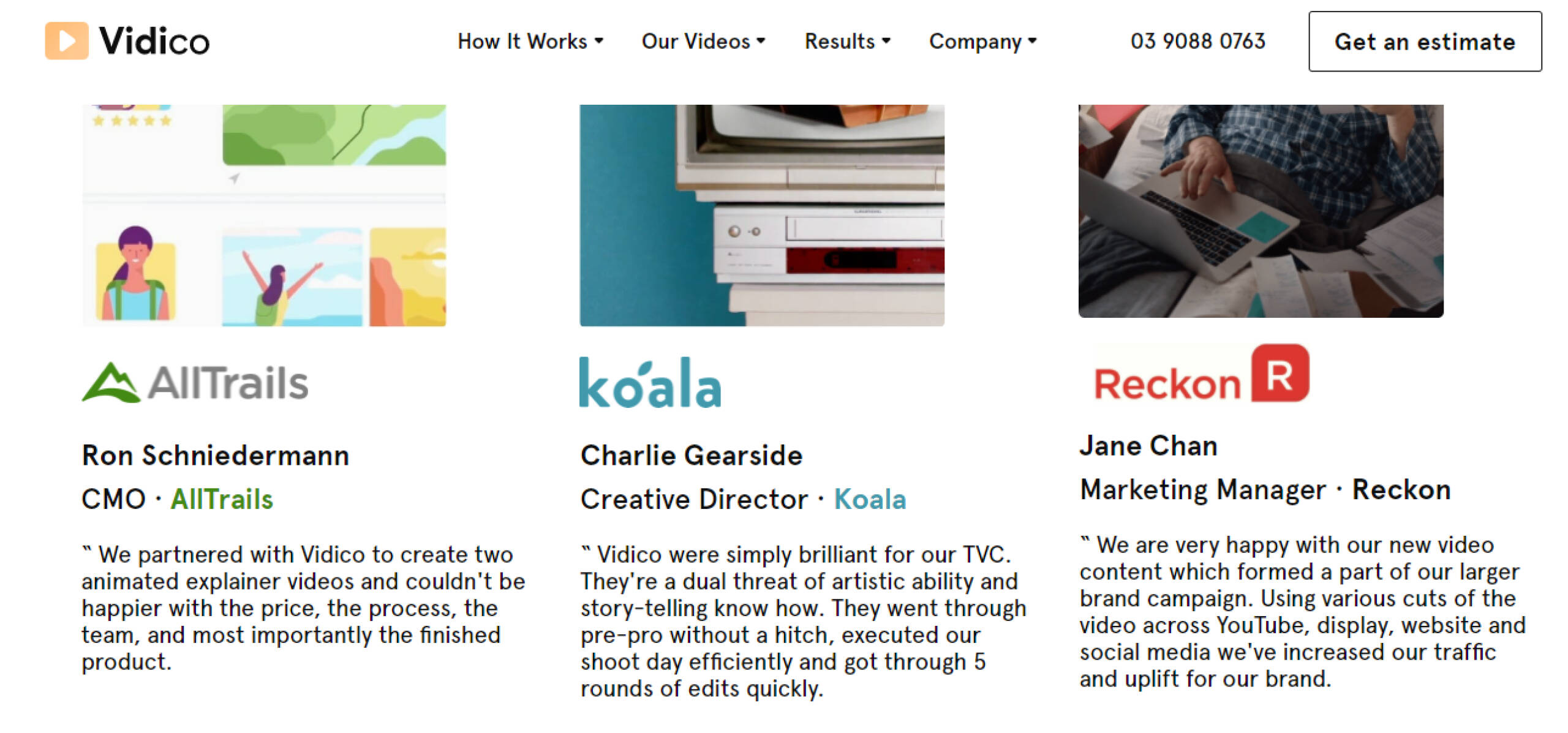 Here are the reviews we received during our five years of experience. 
Production Process: How do they go about producing the videos?
Here, you will need to understand how the production process will unfold. Which approach will they use to get their final approval, and how will you be involved?  
There are three essential phases to every production process: pre-production, production, and post-production. Depending on the video style and type you want, here is how the process goes from start to finish. 
Pre-production
Pre-production is the most critical part of the whole production process. This is where all the planning involved in the actual video production happens. Making sure your voice is heard is crucial here. You need to provide your video production company with all the information to start the creative approach. 
For successful pre-production at Vidico, here is the information we require from our clients. 
Their goal with the video

Their target audience

Their core message

What they want inside the video – like the style, the mood, the theme, the soundtrack, etc. 

A script and storyboard – we have professionals for this and prefer they do it. But, if you feel you can best deliver what you want in the video, this is the stage you need to provide us with your script and storyboard. 
These, together, act as the production brief and help us get a clear idea of the job ahead and what a great video would mean to our client. When this is cleared, we then move on to the next phase.
Production
The production company entirely handles this step and generally requires little or no intervention from the customer. 
We bring out the necessary talent team to ensure your videos are produced efficiently and that we deliver on the preset planning. If it's a live-action video, activities will include installing video tools, lighting, capturing B-roll footage, etc. Essentially, this is where the scenes are recorded. If it's an animation video, this is where it all goes from a concept to an actual video.
At this stage, we work with a trained video production director who makes sure all your needs are served and that your expectations are met. 
Post-production
This is the stage where you get the final cut you can use in your marketing activities. Here again, you will need to be involved and heard. Along with the video crew, you will edit the clips to your liking, add extra visual elements, choose the music and sound effects, all necessary editing to approve the final result. 
We've created a comprehensive guide on our video production process at Vidico, and it ensures we produce the best video; you can read it here.
Niche: Have they produced videos for companies in the same business line as yours?
Consider hiring a company that specializes in your niche, so you can be sure that they have already gained a lot of experience in this area. This will save you a lot of explanation, and you can make sure that every video they produce has the best angle and fits your target audience. 
Niches in marketing video production can be finance, music, digital products, eCommerce products, software tools, videos for start-ups, corporate and enterprise videos, etc. 
Where do we stand amid this?
At Vidico, we've covered almost every industry during our five years of service. We've worked with companies Airwallex in finance, Freighty in insurance, Hive in workflow management tools, just to name a few. You can check the companies we've worked with here. 
Timelines: Can they meet your deadlines?
Most likely, the video you are trying to produce is part of an overall content marketing strategy. So that also means it's part of a content deployment plan you're implementing to ensure you're providing your target audience with the right content at the right time. 
Thus, it makes sense to ensure that your videos will be ready when you need them before you close the deal. 
To do this, you can check on their website or through a call how long it takes them to produce a video from start to finish. 
Keep in mind video content requires a lot more creativity and does not come together as quickly as other content types. And so you will need to be sure of the likelihood of the timelines you get from professional video production companies. 
Where do we stand amid this?
At Vidico, we like to think of ourselves as professionals and take the necessary time to produce the best video you can get on the market. Video production takes six weeks for both animation and live-action, including feedback loops. 
We understand pre-production is the most crucial part of the production, so that alone takes up two-three of these weeks. Now production and post-production take the final two weeks. However, a TV commercial requires more work and can take as long as eight weeks to produce.
Conclusion: Prepare a list of questions for the first meeting
As you whittle down the choices to two or three companies, you need to set up a face-to-face meeting with them. You should make sure the video production company you choose can work together with your team. So, the goal here is to see if you are both a fit for one another. 
For this, you'll have to prepare specific questions that'll help you assess whether you can collaborate. Likewise, the video production company will prepare questions to determine the extent to which you may or may not work together. This serves to ensure that both parties get what they want and that everyone is happy afterward.
Vidico is one of the leading video production companies in Australia. We've worked with companies across the U.S., Canada, the U.K, Australia, and more. If you're ready to start video production, you can get a quick estimate here.