TikTok is a Vine-meets-Facebook app that's bursting at the seams with branding and marketing opportunities. 
TikTok marketing comes down to making concise, auto-looping videos with added music and special effects that appeal to 500 million MAU kids and kidults. Seeing how this platform is still new, it's understandable that you might be wondering if it's even worth investing in TikTok video marketing.
In 2019, TikTok started testing native ads and introduced verified badges for accounts, with a leaked pitch deck sent to an ad agency in January 2019 showing four advertising concepts that included augmented reality (AR) and 3D lens capability. 
This strongly indicates TikTok is planning to bring video marketing and video ads to a whole new level of merging digital and real-world marketing, all the while letting users participate in increasing virality and brand awareness.
Fast-paced, quirky, and fleeting by nature, marketing TikTok videos will require creativity that goes beyond the "product good, buy product" motto of modern video ads. 
TikTok influencers might not have the same clout as other video-based or social media platforms, but they do have the creativity that makes them stand out from the rest of the crop. 
There's still no definitive list of TikTok marketing best practices, which means you can experiment quite a bit and possibly hit it big by being creative. 
Learn from Top Brands Doing Video Production On TikTok
One great way to start off is by looking at brands already doing video production on TikTok.
#1 Chipotle
TikTok originally revolved around users lip-syncing a music video, so one of Chipotle's TikTok video ads pays homage to the platform's roots while featuring menu items. 
In the video, tortilla chips are arranged to feel like an audience surrounding a bowl of guac, which would be Adele, and they all sing her "Someone Like You" in sync with the song's live version. 
As people caught on, they made their own versions with different foods and items, contributing to the novelty of the trend and spreading it further.
The total budget for Chipotle's video couldn't have been particularly expensive, but it worked so well because it fit TikTok's video format and users' expectations. 
Another of Chipotle's videos features a quirky dance alongside the #GuacDance hashtag, which sparked the viral trend of TikTok users making their own variations of the dance. 
Again, the budget was minimal, allowing Chipotle to think of a simple idea, publish it straight away, and use a novel hashtag to funnel all the viewers of all the variations of the video back to the original one.
As people participated in both the Adele and the #GuacDance events, they expressed their creativity in uniquely TikTok ways while spreading brand awareness. 
There's very little a competitor can do to hijack the virality of these events. Instead, everyone contributes to the brand's video marketing with these Vine-like snippets of content.
#2 The Washington Post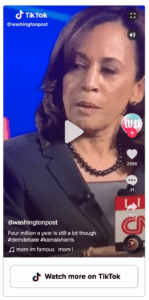 As one of the earliest adopters of TikTok marketing, The Washington Post quickly learned that TikTok content doesn't have to be serious, high-brow, or investigative. 
This official newspaper account posts funny, musical skits that focus on behind-the-scenes happenings at its office, often peppered with quirky special effects and quotes from public figures.
The Washington Post is marketing its TikTok content to the same audience that's already subscribed to their news pipeline—meaning a specific, receptive niche. 
This is another key aspect of TikTok marketing that allows for focused content that costs little to produce but is highly interacted with by a small audience segment. 
A branded TikTok account could produce how-to videos, instruction manuals, and much more in video form to foster engagement and genuinely help its audience with minimal investment.
By not taking itself too seriously, The Washington Post TikTok account is also trying to attract the attention of the younger audience that might be too intimidated by the serious stuff, such as economics and political debates. 
An approach that makes a brand seem more human and lighthearted is an excellent way to create TikTok content.
#3 San Diego Zoo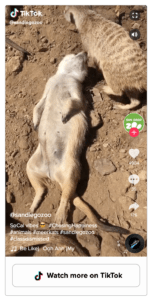 The San Diego Zoo TikTok account rides on the fact everyone on the internet goes "awww" upon seeing cute animal videos. 
With some upbeat music, the "awww" turns into a "wow!" and becomes a viral video that appeals to the carefree kid and kidult audience. When the San Diego Zoo content is spliced with that of another zoo or aquarium, the content reaches a whole new level of amazing.
From the San Diego Zoo TikTok account, we can learn the nifty strategy of posting content in tandem with another account, also known as cross-promotion. 
While this already exists in marketing, doing it over TikTok allows for much more flexibility as completely random brands can interact and create quirky video content that attracts new audiences to all participating brands. 
In this way, all participating brands get their content amplified at no additional cost.
Conclusion
For now, TikTok marketing is still in its early stages but promises a lot of innovation, such as AR marketing that would overlay the real-world camera feed with digital images. 
Until that happens, you should hold off on investing in TikTok marketing but dip your toes in low-level branding and virality experiments to see what works and what doesn't.
In other words, do participate but don't anticipate.
TikTok excels at being a unique video platform where everyone can quickly create and share light, fun and engaging video snippets on topics ranging from heavy-hitting politics to fast food menus and zoo animals. 
The ease of cross-promotion and viral sharing makes TikTok a very appealing platform for all kinds of creative video production.
TikTok is a great testbed for video ads, audience interaction mechanisms, and viral spread potential.  Any marketing content you plan to produce should take TikTok into account, in particular the idiosyncrasies of how its video content is produced, shared, and consumed.
In 2020, consumers have become increasingly wary of glossy, sterile video ads. Consumers want to see the real thing and what's going on behind the scenes before interacting with a brand and committing to a purchase. 
All the successful TikTok brands have that in common—they show an unfiltered, genuine side of themselves in a playful way, which the TikTok audience respects and rewards with a viral, playful spread of their content.
For more information on TikTok advertising, talk to the video production team at Vidico today.