The ideal length of an explainer video is one of the many debates you will face when creating your explainer video. Like all blogs on the matter, we can tell you right away that the ideal length for an explainer video is between 60 and 120 seconds. But in our experience, this is not the case in all contexts. 
First, the statistics reveal somewhat confusing results. 
In 2016, the video production and marketing company, Wistia, conducted a survey that proved a correlation between the length of an explainer video and how viewers engage with that video.

They analyzed over 500,000 explainer videos that have combined for over a billion views on the internet and found that the ideal length for an explainer video is 2 minutes.
At the same time, a recent study by Animation Explainers showed that the average view for explainer videos falls from 77% to 57% when they reach 2 minutes in duration.
In other words, 50% of viewers find a 2-minute explainer video too long. 
So, what's the ideal length for an explainer video?
Ideally, you want your video to be long enough to include all the information needed to make it compelling, but not so long that it bores your viewers, causes them to leave the video before it's finished, and damages your results. We've got you covered. 
In this article, you will discover the ideal length for different types of explainer videos. But more importantly, we'll explain why these lengths are best for optimal explainer video results.
Why Is It Important to Nail Your Explainer Video's Length?
Creating an explainer video is a significant investment. You need to make it compelling to your audience, and that starts with making sure they watch the video from the first second to the last. 
The main reason you need to determine the perfect length of an explainer video is that there is an immediate correlation between the video's length and the engagement metrics it gets—for example, the shorter the explainer video, the higher the view-through and retention rate. 
Case in point, studies show that the average retention rate for an explainer video of one minute is 77%. And audience retention rates gradually decrease as the length of the explainer video increases. In other words, the longer an explainer video is, the fewer viewers retain. 
That's why most companies and marketers prefer to keep the average explainer video length to 2 minutes. That's just enough duration to fit in all the necessary information while ensuring viewers don't get bored and miss the main message. 
So, ensuring the ideal length for your video gives you the best chance to get your viewers to watch the entire video, retain your message and act on your CTA. 
If viewers leave your explainer videos before making it to the end, all your efforts and investments are lost. It's simple logic. Because if they don't stay in your videos long enough to properly engage and follow through with your CTA, your engagement metrics will plummet, and your churn rate will skyrocket.
How Long Should An Explainer Video Be?
Explainer videos are typically used for marketing or promotional purposes. They help provide an overview of the product or service offered by a company and highlight its benefits in a visually appealing and memorable way. 
Here is an overview of the ideal explainer video length you should consider based on its target destination. 
Explainer Video Length for TV Commercial
The ideal length for an explainer video you'll use for a TV commercial is between 30 and 45 seconds. TV commercial videos should be short explainer videos with bite-sized information that connects viewers with your brand. 
Your goal is to create something that quickly highlights your brand's value to the general public. So, you should aim for something fun, short, and memorable. 
Explainer Video Length for Social media
You need to keep your videos for social media between one and two minutes. People get bombarded with tons of social media content and marketing material. So, your ability to create a fun video and stick out of the crowd is essential to ensure an excellent performance to your videos. 
Explainer Video Length for your own website or blog
The ideal length for an explainer video on your website is between 60 and 120 seconds.  You can go up to 180 seconds if you have more to say. This is your website, so you must ensure that people engage with your explainer video and act on your call to action.
Explainer Video Length for Facebook Ads
The ideal length for Facebook ads explainer videos is between 15 and 30 seconds. Regarding Facebook ads, the shorter you can keep your explainer videos, the better off you'll be. 
In-feed ad videos can be longer, but in-video ads only last 15 seconds (tops) before the user can skip them. And the last thing somebody wants is to be watching a fun video and get it cut for a boring explainer video; they'll skip it every day of the week. 
So, not only do you need to make the videos really short, but you also have to ensure they're punchy at the beginning—or people will always be quick to skip them as they appear. 
Explainer Video Length for YouTube pre-roll
If you're using your explainer videos for YouTube pre-roll, the ideal length is between 15 and 30 seconds. People go on YouTube to watch specific videos; your explainer pre-roll video is extra, so make sure you don't take much of their time. 
Also, they'll be quick to skip the video if it's too long or irrelevant to them. Be sure to properly define your target audience, and make sure you start with a hook. 
3 Mistakes Companies Make When It Comes To Explainer Video Length 
There is no final length for explainer videos that you must always use. In fact, here are some controversies about the perfect length for explainer videos that you need to know about. 
Length doesn't really matter.
As surprising as it may seem, one of your viewers' first actions when they click to play your video, is to take a quick look at the video's countdown timer. The duration they see and the impression it gives them will determine whether they stay for the whole video or leave. 
If they find the video short and exciting, they will certainly stick around and watch it until the last second. On the other hand, if they find the video too long and the first few seconds don't hook them, they will most certainly bounce. 
At the same time, there is a theory suggesting that the viewer may well find the explainer video too long but still watch it through. This theory is known as "The 5 seconds theory". 
It implies that if you hook your viewers in the first 5 seconds of the video, they are much more likely to continue with the rest of the video. For proponents of this theory, the video length doesn't matter. 
The shorter video, the better. But not always.
Given the tons of content available online and the sheer cost of human attention on the internet, it may seem like a good idea to always make your explainer videos as short as possible. This approach will most often work, but not in all cases. 
Sometimes you need to give your viewers enough time to really engage with the explainer video and its content—so viewers can absorb the content and act on your call to action. ThinkWithGoogle conducted a study that further proves this. 
They created three explainer videos for the same product. The three videos last 15 seconds, 30 seconds, and 2 minutes. At the end of the study, they noticed that the shortest video, 15 seconds, had the lowest view-through rate. However, the 30-second and 2-minute videos had much better results regarding view-through and across-the-board engagement.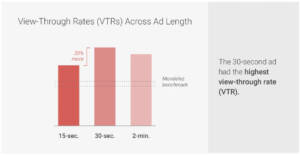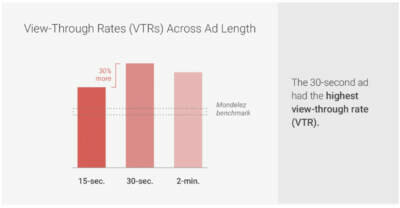 So while it may be a good idea to keep the explainer video short, it's even better to keep it just long enough to ensure that viewers have the time to assimilate the information and connect with your company. 
Also, there is a difference between a short video and a concise, succinct video. Both are not mutually inclusive. It all depends on the value you provide in the video and how you answer what your customers genuinely want to know about the product. 
Even more interesting, for some people, an explainer video that's too short may indicate that the video has no real value. And for that, they may not find it useful for them. 
So, the shorter video is not necessarily the better one, but the one that's concise and speaks to your prospects' problems and issues is. 
People won't watch long (5-10 minutes) explainer videos. Wrong!!
As we discussed earlier, the length of an explainer video is important, but not always. Ultimately, it's up to your audience to find your video interesting or not. They determine if they should stay and watch the video all the way through or if they should leave it.
Let's take the example of companies like Microsoft, Apple, and Google. These companies produce 5-10 minute explainer videos. But even so, these videos garner millions and billions of views online. 
So sometimes, the question isn't always how long your explainer video needs to be for your audience to watch it all the way through. It's about how exciting your product is. 
If you have a fantastic product and can get your audience excited about it, you can opt for longer explainer videos. People will watch your explainer videos and come back for more.
Know How To Choose The Best Length For Your Explainer Video
Here is one cold truth about explainer video length; no matter how short you keep your explainer video, if it's boring, people will not engage with it. 
The best way to approach this is to balance the value you provide and the explainer video length. Ideally, between one and 2 minutes considering retention rate and the human attention span concerns. 
If you are sure your product is exciting and people can enjoy watching long explainer videos about it, you can always shoot for maximum length. In this case, you can go up to 5 and 10 minutes worth of explainer video. 
Also, you will need to consider the video's destination before deciding how long it will be. Some specific video channels require your explainer videos to be short for optimal results. So, you'll have to align with those.