Here's the truth: one of the biggest problems with the case study videos we see today is that they only consider production, and not broader marketing strategy.
Let's be clear: it's not that your outsourced video production company isn't good enough or even that your production team lacks the video expertise.
The problem is that all these people are just video experts. They can produce world-class videos using state-of-the-art tools following best practices, but what about marketing know-how, or distribution? You need more than just production.
How do you make the case study video convert? How do you make it engaging? And, how do you make it achieve its initial goal?
Very few video production companies can find an answer to these questions, and that's where we, at Vidico, make the difference. But don't take our words for it just yet. Here is what we do.
We have put in place a solid video production process and strategy that helps us produce engaging visual content that converts.
Over the past years, we've worked with brands such as Square, Amazon, Uber, Samsung, Koala, Vimeo, Spotify, and Digital Ocean. Within the last 12 months, our videos have generated over 1 billion engagements, and our content led to an increase of up to 15% in conversion rates.
Are you a business owner or a marketing executive and want to boost demand generation and sales for your products? We've helped our clients generate millions of dollars in sales with video content. We can help you too. Discover how much will a case study video cost you. 
From Our Experience: Why Most Case Study Videos Do Not Work
We have a proven process that allows us to create videos that impact and stand out from other videos on the market. But before we got to this point, we, too, were making the same mistake as most video marketing specialists.
Here are four gaps we've noticed that make today's video case studies 'unconvertable'. 
Gap 1: Most case study videos don't factor in the business model and are limited in scope and pattern 
Most video production companies don't take the time to understand the business vertical they are dealing with, their model, and how to adapt the style and format of the video.
As a result, they produce case study videos that are the opposite of what they should be. 
A first example to illustrate this is those case study videos that are nothing but mere testimonial videos. The videos that fall into this category feature customers saying nice things about the company in question vs. expressing how the company has helped them using supporting figures and facts.
The problem with this kind of case study video is that it sows doubt in the customer's mind. 
"Is this product as effective as these people are claiming?" 

"Maybe, they are friends with the company's CEO?" 

"Why aren't they giving the exact figures/results that the product has helped them accomplish?"
Persuading customers is hard to do when they don't know if your product does what it claims. So, when you have to deal with B2B customers, you have to convince them by going the extra mile and giving them a reason to pay you X amount of money per month for your product. In this case, a video testimonial disguised as a case study won't cut it.
Another problem is that some video case studies for B2B companies are shot and produced as if they were addressing a B2C audience and vice versa. Think about how many direct-to-consumer (DTC) businesses out there have boring case study videos that sound like they are addressing a sophisticated audience. 
Very often, in the B2B world, the buyer you're talking to is often not the "real buyer." It's just an agent speaking on behalf of a buying committee you don't know exists. 
A video case study for this kind of B2B buyer should indirectly talk to this committee by giving the numbers that a Chief Technical Officer (CTO), a Chief Product Officer, or a Chief Marketing Officer might be interested in vs. speaking as if the buyer was just a full-fledged entity that has decision making power.
So, if you are Hubspot or Salesforce, and you sell enterprise-level products, your case study video must contain specific, business-geared information (both figures and facts) to convince the buying committee of your potential customers to buy your product without objection. 
And if you're Nike or IKEA, your case study videos must be different from Hubspot's. Most importantly, your video content must contain emotional and psychological components that make the content easy to consume, which brings us to Gap #2.
Find an estimate for your case study video in minutes.
With our new VidiFit quiz you can get a high-level estimation on how much it would cost to produce a video.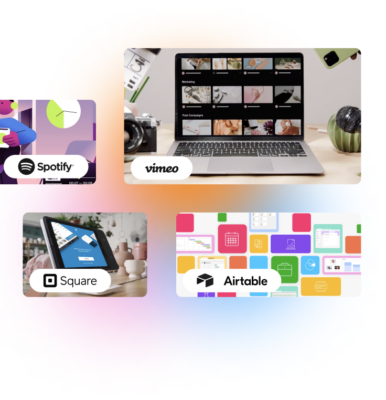 Gap 2: Most case study videos lack minimalistic motion design components such as intro cards, transitions, lower-thirds, and logo animations to make the video more visually engaging.
Small video design elements such as those listed above are easy to overlook. In fact, when considered separately, it's hard to see why they matter. But the truth is, they can hurt the performance of your video before you even think about conversion. 
Let's stick with the Salesforce example. 
Salesforce sells enterprise-level software solutions to a very advanced and sophisticated audience. So they have a given standard to meet—and a poorly articulated case study video won't make it. 
When it comes to displaying metrics in case study videos, our experience has shown that the choice of fonts, font colors, and size is (almost always) poorly done—giving inconsistencies throughout your video for the lower thirds and the title cards. 
Another pervasive problem is that transitions are poorly done. Many people tend to think that transitions always need to be flashy or visible. Still, the most recommended transitions (standard cut, crossfades or cross dissolves, J-cuts or L-cuts) are almost always invisible upon application. 
The reason for these technical problems with case study videos is that most video producers have a straightforward way of conceptualizing and designing them. This brings us to Gap #3. 
Gap 3: The selection of segments from the video interviews aren't interesting enough or don't create a compelling narrative
There is no one-size-fits-all method for designing a case study video—your video can have a structure similar to that of a written case study, or it can take the form of a narrated story or an interview-style Q&A.
Often, it is a mix of different video styles that make up the final video that is presented to prospects and sales leads. The consequence of this is that the prospect doesn't feel engaged after a segment and gets lost in the narrative.
The majority of Gen Z and Millenials are clicking 'skip' on skippable ads after 9.6 seconds on average. That means the way media is being consumed is changing rapidly, making it essential to find new forms of engagement.
Imagine watching a case study video that starts as a Q&A with interview questions and, after a segment, ends as a story. At first, the problem won't be obvious. The truth is that you won't even notice it. 
But the video will look less attractive and compelling because it doesn't have a proper flow, which hurts the viewing experience and nullifies any optimization and conversion efforts all together.  
Video content is naturally engaging. Yet, when the segment selection is poorly done, the human mind has difficulty matching facts and scenes to what's being narrated. And the prospective customer ends up disengaging naturally because the case study fails to keep a consistent flow. 
Gap 4: Most case study videos miss out on persuasion elements such as social proof and testimonial
The fourth problem we noticed with case study videos that don't convert is that they come across as another brand awareness video. They do not persuade the viewer to see the value of the product/company they are advertising. 
For example, you might see the CEO or a C-level executive of a company talking about the merits of their company in a case study video without using any hard social proof to convince the viewer of the truth of what they are saying. Yet statistics have proven that social proof boosts conversion by 15% when used properly. 
Sometimes, even when the videos are well crafted, the scriptwriter and narrator use very few persuasive words or psychology to convince viewers, to take action. 
According to Smart Blogger's Jon Morrow, "Power words are like a "cheat code" for boosting conversion rates. Sprinkle in a few, and you can transform dull, lifeless words into persuasive words that compel readers to take action."
Our Strategy for Creating Case Study Videos That Empower Sales Teams and Convert Leads 
Anyone can create beautiful and visually appealing case study videos. But it makes no sense if the video is not optimized for conversion. 
So, at this point, you are asking yourself, how do you make a case study video to ensure conversion and maximize business?
With the gaps we identified over time, we had the basis for a case study video strategy to create case study videos we and our clients are proud of. All that was left was to create systems to solve the above problems and improve on them.
Here's how we produce case study videos that convert. 
Solution 1 (for Gap 1 & 2): We have a five-pronged, active case study video production process to ensure our videos stand out
Take the average "video production process" for example. A simple googling will show you many articles—all similar to one another—that talk about pre-production, production, and post-production. 
These are accurate, only that none of them are geared towards optimizing the video content for conversion, which is the primary role of a video case study. 
We understand a case study video is only as good as it helps our customers close deals. That's why the thought process behind our case study videos is always different. 
See, we don't produce a video that will please you or a video you think is good. The first thing we always do is extensive customer research and internal audit to get a thorough grasp of your business, what you want ROI-wise. We stretch the research down to the very audience our customer is targeting and understand their needs and behaviors. 
This helps us set up a case study video production process for creating advanced and high-standard content at a level that an industry veteran or knowledgeable consumer (like a Salesforce prospect) would feel matches their own. Of course, we also keep your business vertical (B2B or B2B) in mind. 
This ensures our case study videos are in line with what the customer "truly" wants and that they are designed to convert and generate the largest possible audience.
In our 5 step video production process, we cover hundreds of questions ranging from how long the case study video needs to be to the behavioral and psychological components we need to play on to create customer attachment with the target audience. 
Note that this process results from years of experience and hundreds of case study videos created over the years. 
So far, this case study video production process is proven and almost foolproof. There is a reason why all the 41 reviews that we have on online review websites are 5 stars.
Solution 2 (for Gap 3 and 4): We leverage human psychology to create impactful narratives
Quick question. Did you know that the choice of font, outfit, and background colors directly affects the conversion rate of a video?
According to recent research by Quick Sprout, 90% of all product assessments are based on color alone. At the same time, another study has proven that color accounts for 85% of the rationale behind consumers purchasing a specific product. 
Well, that's just about color. Can you imagine how things such as the body language of the speaker, the angle from which the video is taken, the environment in which the video is produced influence conversion?
So, we leave no single production and conversion optimization aspect to chance. We have put together standards and checklists that allow us to ensure that every element is in place for the final video to convert.
Here are a few examples:
    💡 Don't use heavy/patterned shirts as this will cause a strange effect on the camera and influence the viewer experience and conversion. 

    💡 For B-Roll, capture relevant and high-quality footage on-location that will be played in tandem with the narration from the interview. This type of footage would include team collaboration, day-to-day company proceedings, use of the core product, wider footage of the company environment.
Obviously, we go beyond this. In fact, we assembled a talented group of directors, designers, cinematographers, technologists, and psychologists who now work with a broad range of clients in the software, hardware, and DTC industries. 
So whether you are a B2C or a B2B brand, we use tested-and-proven models for storytelling and storyboard each video extensively. We pay particular attention to the choice of words and power words, the style of the case study video, and the choice of on-location footage to combine. 
For the sake of clarification, here are two case study videos we've produced for clients recently:
When comparing Summer's video, which is aimed at a B2C audience, and Oliver Hume's video, which is aimed at a business audience, you will notice that the two videos' choice of words and style are different. Even better, you'll notice that when you follow Summer's video, it speaks to a young audience of students, with no boring jargon of the Student Debt world. 
On the other hand, you will see that Oliver Hume's video is purely about corporate, business, and teamwork. We owe this degree of precision and above-average standard to our team of scriptwriters and storyboard designers who only take pride in creating appealing visual content. 
As proof, Vidico content leads to an increase of up to 15% in conversion action rates. And that's what has earned us the distinction of working with 200+ clients, including Square, Amazon, Uber, Samsung, Koala, Airwallex, Mobike, and Digital Ocean.
If you're a marketing executive at a B2B or B2C company and want to explore how our case study videos can fuel your pipeline, just like we did for the above-listed brands, you can get a quick estimate of how much a great case study video will cost you here.
Solution 3 (Bonus): We don't stop at video production. We guide our clients on the direction to go for video distribution strategy and provide video clips that suit these channels.
Building one of the best video production processes, and strategies in the market required optimizing our clips to drive serious engagement and conversion results. But even more important, we needed to ensure our videos are viewed by the relevant audiences. 
It does not serve our purpose to create case study videos only for you to post them on a few corners of your website or Instagram page and call it quits. 
We help our clients distribute the videos we create for them.
By distribution, we mean audience research and content deployment and optimization across all platforms where their target audience is. i.e., Youtube, Vimeo, Facebook, Instagram, Twitter, Reddit, etc.
We provide cut-downs specific to each platform you can find your audience. You also need to understand that it is not a video distribution strategy to post a video once and call it a day. Our video distribution helps us maximize views and drive action to the videos we produce. That's because we constantly strive to bring the creative to the eyes of the audience. 
Our distribution strategy has earned our videos over 1.1 billion views in the last twelve months. You've likely seen our videos on TV or social media if you're a US, Canada, UK, or Australia resident.
3 Example of Case Study Videos We've Created at Vidico
As you may have guessed, we can't conclude without presenting you with some of the best examples of case study videos. Depending on your business, we have several case study examples you can learn from. But for the sake of clarification, we will present you with three different examples.
Local Measure
When it comes to creating an effective case study video, storytelling can also be a good idea for B2Bs. Here, we used storytelling to create an emotional connection with the viewer and elicit action. We outlined Local Measure's case study video on a great story from a happy customer company's expert perspective. 
Our experts put together a full-fledged plot that walks viewers from who the customer is, their area of expertise, the challenges they had to how Local Measure has helped them, and the results they've got from it—plus how they were able to scale. We ensured that no viewer would come out of the video without understanding the exact value the company has offered its customer in the video. 
Smith Detection
Smith Detection's video is a great case study video in that it is a true example of a well-done B2B case study video. We positioned the case study to depict a true B2B communication standard. You can tell by the outfits, the subtlety in the speaking, and the environment in which the video was shot. 
Melbourne Airport partnered with our client, Smith Detection, to install a computerized cabin scanner to smoothen the process at the airport. So, we featured experts from both companies as well as Melbourne Airport customers describing how the company's solution has improved their experience at the airport. 
Smith Detection describes their approach to understanding the challenges Melbourne Airport was facing. The Melbourne Airport expert describes their experience with the company and how Smith's solution has helped, supported by statements from the end-users, the travelers. 
NSW Department of Education
NSW Department of Education is a public education institution that helps people gain access to high-quality education to help them achieve more. Our team was involved in every step of the video creation, from ideation to distribution. We approached the creative from an interview standpoint which makes it spot-on given that it is targeted to a B2C audience.
We directed the storyboarding and the animations to be representative of our client's environment. We also asked specific questions and drilled down to the core results the user has gotten from our clients and what it means to them. This helped us use the right words and devise the right statements to support the high-standard expectations our client, the NSW Department of Education, sets for their offerings. 
In turn, we are able to increase brand awareness for our clients and paint a clear picture of the value viewers can get from our clients. 
What You Need To Do Now
Many companies fall into the trap of hiring a video production agency to create case study videos that :
Don't align with their core business vertical.

Aren't able to tell a compelling narrative that prompts action.

Have no proven methodology for conversion.
Vidico is a leading global video production company and video marketing agency with a proven methodology for creating world-class, high-converting videos for our clients. Our videos have received over 1 billion engagements in the last 12 months and our videos have a 15+% conversion rate.
If your product has a strong market fit and you want to make demand generation a priority, we can help you create case study videos that generate sales by positioning your product as the go-to tool in your industry. Discover how much a high-converting case study video will cost you.