Welcome to Vidico's Newsletter Video For Growth 👋
In today's newsletter you'll learn what video metrics are, and how they can inform and measure your strategy success.
Aligning your video's performance with marketing goals to prove ROI can be a tough nut to crack. As a result, most marketers focus on vanity metrics and KPIs that don't tie to ROI.
Key Takeaways
Marketers create videos for several reasons, meaning no two video campaigns are created equal.  So, instead of tracking your campaigns against industry benchmarks, you should make sense of your video marketing results by considering your marketing goals and funnels.
After reading this piece, you will be able to do the following:
📌 Determine the best performance metrics and KPIs to focus on.
📌 Ensure your KPIs are well aligned with your marketing funnel and goals.
📌 Leverage the best video production tips and approaches to ensure maximum results.
📌 Use the best tool to track your performance metrics and KPIs.
To get even more video marketing insights, sign up to this newsletter.
Performance metrics and KPIs you need to focus on.
Before creating any marketing video, you need to be clear on the outcome you are expecting out of it. Goals help you define specific video content types you need to create and the KPIs you need to track to make sense of success or lack thereof.
For example, if you want to improve your brand awareness, you should create videos like brand stories that get the word out about your business and its value to the general public. Because your goal is to get seen and heard by as many people as possible, you need to track metrics like views and impressions.
That cleared, here are specific video KPIs you need to track to align with your (different) marketing goals, considering the different goals in the three sales funnel stages.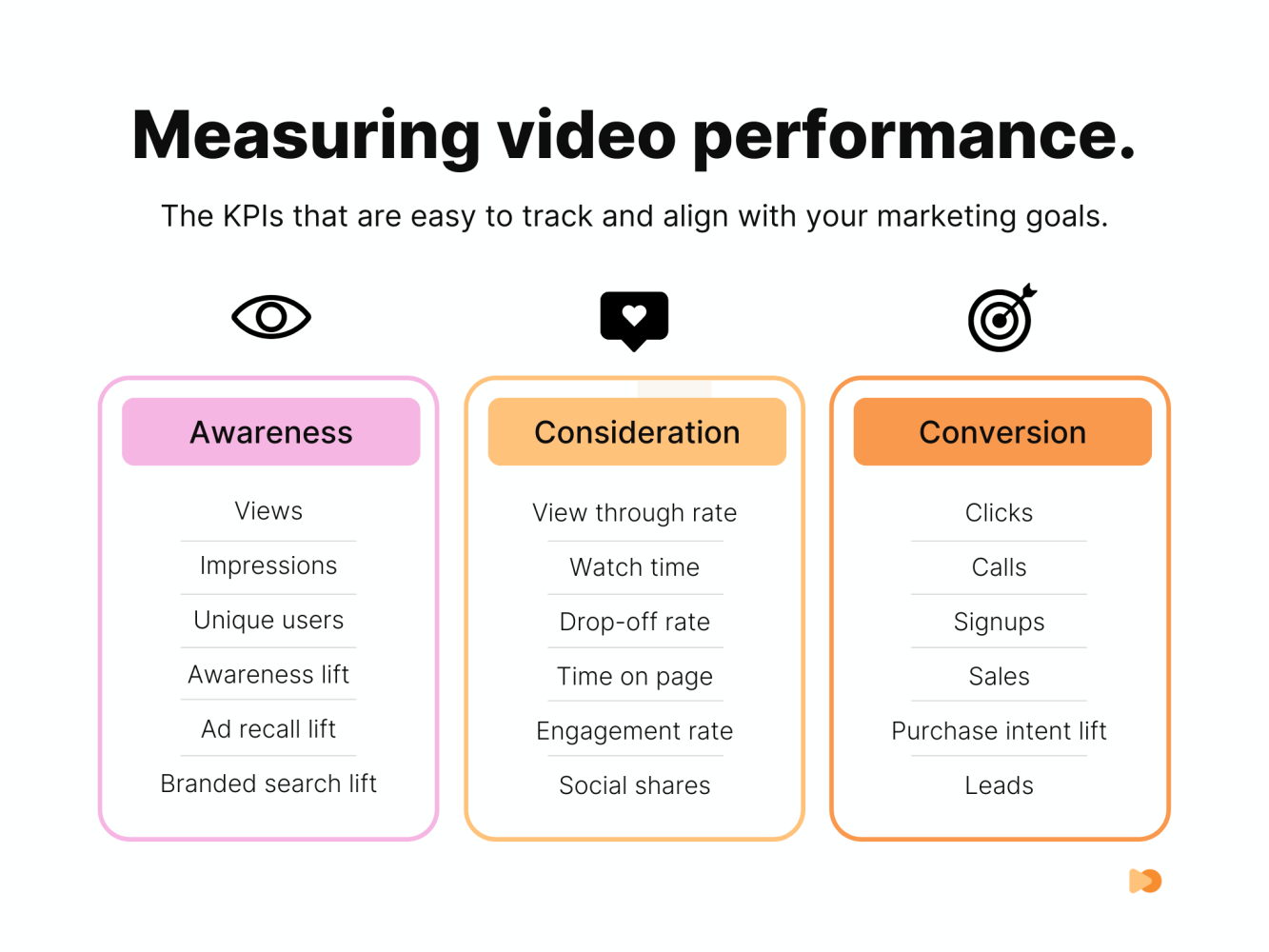 👀 Awareness
At this stage, most videos you create will seek to increase your brand awareness, so KPIs and metrics need to be aligned with brand awareness goals. Here are the prominent metric examples.
Impressions: The total number of times your video has appeared in viewers' feeds.
Views: The number of times your audience viewed your content for at least 30 seconds.
Ad recall lift: The estimated fringe audience that remembers your ad, out of the number of people your ad reached.
Branded search lift: These are video views that arrive via branded keywords on a search engine.
🤔 Consideration
At this funnel stage, your goal is to create or improve the product experience and knowledge to get the audience to consider your offering. You want to entice viewers to love your product or service, get them to watch more of your videos, and connect with your brand.
So, the KPIs and metrics you track should indicate whether or not the audience values your product/service and content and spends time-consuming them. Here are KPIs and metrics examples.
View-through rate: The number of people who completed your video out of those who viewed it.
Watch Time: Total average amount of time viewers watched your video.
Drop-off rate: The number of people who abandon your video out of those who started watching it.
Average view duration: The estimated average minutes your video has been watched per view.
Engagement rate: The likes, shares, dislikes, and comments your video has garnered.
Audience retention: The average percentage of the video that your audience watched per viewing.
✅ Conversion
At this stage, your goal is to push for product integration and win more customers. So, success would mean a high purchase intent, actions from the audience, a lift in product adoption, etc., and these are what the KPIs and metrics you track should help understand. Here are a few examples:
Link clicks: The number of viewers that acted on and followed through with your call to action after watching your videos.
Purchase intent lift: The increase rate in purchase intent score.
Sales: The average number of people who bought your product after watching your videos.
Product signups: The number of people who signed up and started using your product.
Calls: The number of sales calls and meetings booked.
Leads: The number of leads or prospects you get.
Tracking these video metrics and marketing KPIs will help you determine whether or not your videos meet your expected outcome—throughout the funnel stages.
3 killer examples for each funnel stage + their secret sauce
Bailey Nelson wanted to create a brand video to get words out about its products and increase brand awareness. The video campaign brought a 40% increase in the company's branded search, with Youtube describing the result as 'best-in-class.' Here is what we can learn from this video.
Secret Sauce 🥫
💡 Show your unique personality: The competition was rough and hard to differentiate, so BN shared a powerful brand story that paints the company's personality and gives a place in the audience's lifestyle.
💡 Take killer product shots: When you sell a product associated with fashion, then its visual appeal in your video matters the most. BN got the product shots right, then used transitions, shape cut-outs, and masks to engage viewers.
2️⃣ Cascade – Consideration
Cascade wanted to re-engage with its audience. They took a disruptive approach and decided to ditch the usual B2B approach for customer acquisition. The video garnered an average view duration of 56s (93% view rate), doubled their subscriber base, got over 5,800+ hours of watch time, increased impression rate to 40%, and got over 1.4 million views on Youtube. Here is what we can learn from Cascade.
Secret Sauce 🥫
💡Have a strong distribution strategy: Cascade ensured they took the video to all the places where their audience could view it. They shared it on Linkedin, Facebook, and Youtube. By the 6th day, the video had already got over 70K views.
💡Make it short and fun: Cascade created a 60-second video with a comedic and disruptive narrative. It begins with a fun and curiosity-striking scene that hooks viewers and quickly sheds light on the brand.
Ftrack Studio's video is positioned to communicate the company's UVP, demarcate from the competition, and win more customers. With only 10k views on YouTube, the video has boosted referrals for their product pages, increased its user base by 63%, and brought an almost 100% increase in sessions. Here is what we can learn from Ftrack.
Secret Sauce 🥫
💡Leave a lasting impression on your viewers: Though the video is customer acquisition material, it was the first experience most viewers had with the tool. So, the company didn't play it safe with the first good impression. The short 2m12s video concisely compressed ftrack Studio's features and scope of capability with stellar imagery and animation.
💡Ensure a sleek view: If you are marketing a software or app product, providing an elegant view into the UI is not negotiable. ftrack gets it and does it right. The UI was further enhanced by typography, graphics, and icons that helped convey certain features.
The best tools to measure your video metrics
🚀 GA
Google Analytics not only pulls out the data you need but empowers you with a unique set of tools that allow you to measure your video marketing performance like never before. For example, Brand Lift can help you align your marketing campaigns with your marketing goals by measuring how video ads impact the perception of your brand. It is also possible to set up custom metrics in Analytics and track them.
⛳️ VidIQ
VidIQ helps you manage, grow, and analyze your YouTube channel. It gives you a 360° view of your video marketing performance across platforms from a single dashboard. It collects and displays all the information you need to manage your video campaigns effortlessly in one place.
💫 Sprout Social
This tool offers a holistic YouTube Report that provides information on your videos' performance. For example, for every video, you can see the view count, the estimated watch time, the average view duration, the engagement (likes, comments, shares), and much more.
3 essential reads to improve your video marketing performance
1️⃣ How to ace your product video marketing – Vidico
2️⃣ How To Measure Your View Rate The Right Way – Vidico 
3️⃣ How To Make A Video Go Viral (Plus 8 Cogs To Ensure Success) – Vidico 
If you enjoyed this edition, don't forget to subscribe to this newsletter to get even more video marketing tips!
Download our State of Video Marketing Report to understand how marketers use video successfully and how much budget is allocated.