It's no surprise that video traffic has surpassed that of written content and that marketing videos are driving more conversion than ever before. Today's consumers consume video content more than any other type of content.
This has brought us to the marketing evidence of the decade: video is king when it comes to content mediums.
Whether you're new to video marketing or simply looking up tools, here are the best video creation tools and video marketing tools you can use to bring home your video marketing strategy and truly educate and influence your consumers. Let's start with the best tools for presentation and product capturing.
We have categorized the apps based on whether they are video marketing tools, video creation software, or video editing tools. Depending on your needs, you will want to jump to the section that interests you the most.
Best Video Tools For Presentation and Capturing Products
Presentation and product capturing tools involve video creation tools that help you zero in on your product/service and visually articulate its value to your viewership. These tools help you show the ins and outs of your product and highlight or provide insights into the intricate parts of a software service. You can use them to create product videos, demo videos, customer testimonial videos, etc.
Vidi is a mobile and web video maker app for creating videos you can spread across all social media and e-commerce platforms to engage your audience with visual content. For example, Etsy sellers can create videos for their product listings, Shopify sellers can create overview videos, and Facebook, Instagram, and Pinterest vendors can produce video stories.
The app is designed explicitly with e-commerce businesses and online stores at heart. It helps them sell more by creating unique videos that outline their products' true beauty and value. It features hundreds of templates created by a team of e-commerce professionals to help shoot professional videos that cover the right angles to draw viewers' attention and pique their interest.
The professional and user-friendly templates are the true strengths of Vidi. The templates are innovative and based on product types. They offer a wide range of perfect shots for products such as dresses, pants, jewellery, and top e-commerce product categories.
The application also walks you through the shooting process to facilitate your work and ensure quality. Also, you have several aspect ratio choices for different social media and e-commerce platforms that you can use accordingly.
Likewise, if you prefer, you can go from suggested striking scripts to creating your own. You can align your product using innovative overlays with a featured image, product title, and price. The app also allows you to add music, text, and even customer feedback to your video.
Camtasia
Camtasia is an all-in-one screen recording and video editing tool by TechSmith. You can record your screen, add video effects, transitions, and more by downloading your Mac or Windows application. You can use this tool to create demo videos, how-to videos, training videos, etc., for your products or services. To get started, you just need to set the capture area, accept or not to include the webcam and mic inputs, and then press Record.
The tool is user-friendly with drag-and-drop features and a clean user interface that makes video editing intuitive and fun. Interestingly, Camtasia provides excellent tutorial videos for those unfamiliar with the software to help them make the most of the tool.
Loom is an alternative to Camtasia. You can use both for the same purpose, but Loom has a sense of personalization. It requires less effort and allows you to quickly record and share. You can record the entire screen, a single window/tab, just the webcam, and accept or disallow camera and microphone inputs.
It's the perfect tool to create your custom demo video to win the customer or teach something quickly. Once you're done, your video will be uploaded to Loom, where you can make some fundamental changes in the browser. You can share your video using a prompted link.
Also, unlike Camtasia, Loom does not require users to download the app (although it does encourage users to do so for a better experience). It also provides statistics on who viewed your video and when. You can use the app with a simple Chrome extension.
4. Videobolt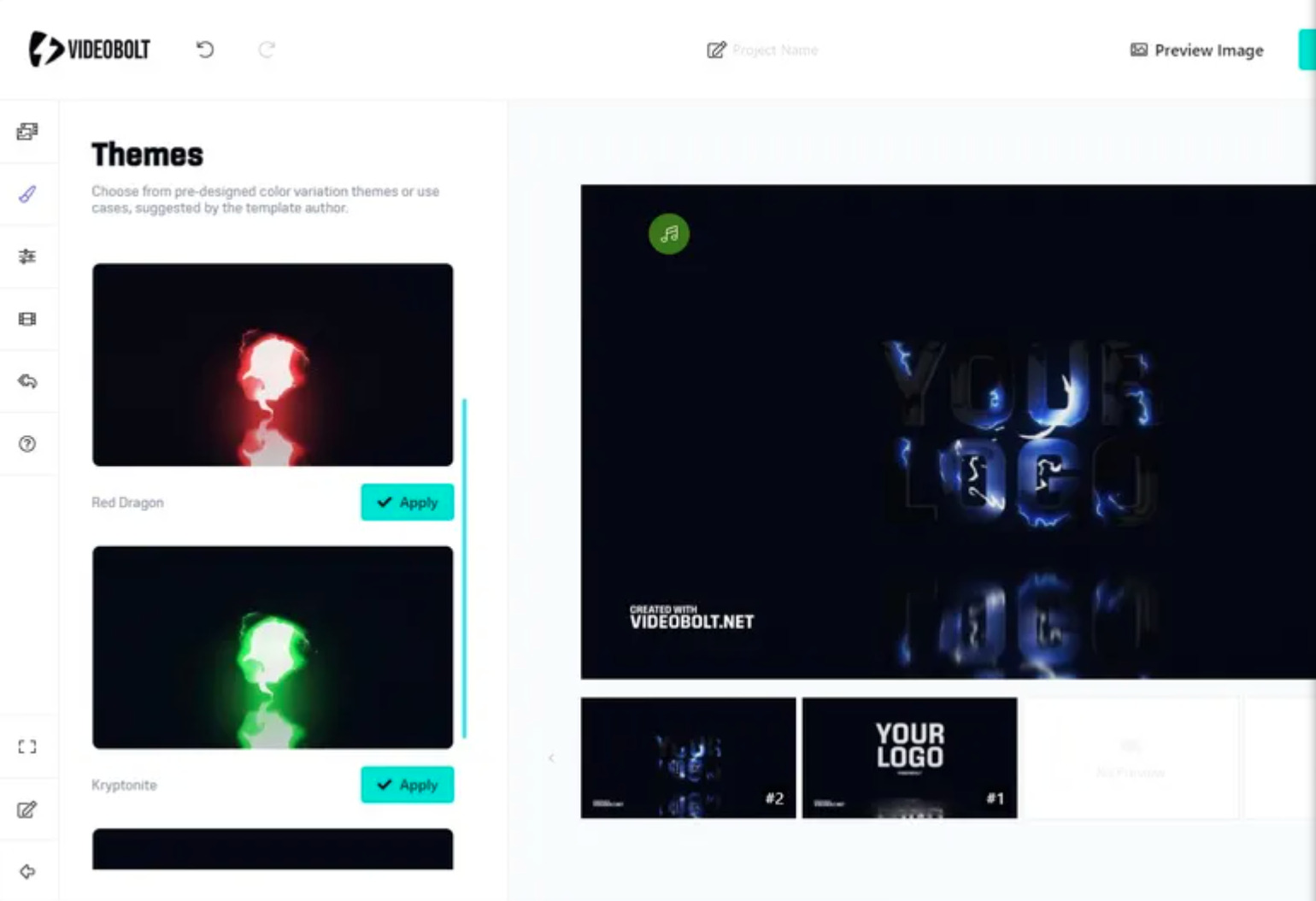 Videobolt is an online video creation platform dedicated to delivering sophisticated motion graphics directly from the internet browser, without any advanced software. The platform is home to over 2500 video templates to help you make branded ads, intros/outros, music visualizers, transitions, and more, using your images, text, videos, and music.
It's the perfect tool for anyone who wants to make stunning videos without having to deal with a camera or an advanced video production tool.
5. Mindstamp

Mindstamp is an interactive video platform that makes it easy to turn any existing sales, marketing, and training video into an intelligent and interactive viewer experience. Users can use the simple drag-and-drop interface to add interactive video features such as buttons, hotspots, and questions, along with personalization features such as branching and conditional logic to increase viewer engagement and drive action.
Mindstamp also generates detailed user reports to give you valuable insights into your audience and how your content is performing. Users can integrate Mindstamp data with top platforms such as HubSpot, Salesforce, Zapier, and more, to create additional personalized nurturing opportunities for future outreach, resulting in a more effective and targeted marketing strategy.
6. Spott
Spott is a comprehensive interactive content software that allows you to create multiple interactive content ranging from interactive videos, interactive images, interactive pdfs, catalogs to even interactive 360° images. 
The key features include adding clickable tags to elements within your videos, such as an add to cart button for your products right as they appear. Drop-in prompts like a buy now or subscribe button. This can be done at any point in your video for optimal response.  
Another feature is including clickable sections in the video timeline so your prospects can get to what they want when they want it, improving engagement and conversion.  There's even the possibility to add auto-optimization based on multiple languages and pricing  fluctuations 
With the product feed feature you connect directly to your database and use the products from there in the interactive layers; no more manual product inputs! Adding a product next to the feed remains possible of course. 
Best Video Tools For Animation Videos
Animated videos help companies make complex procedures or ideas easier to understand for their audiences. Here are the best tools for creating animated videos.
7. simpleshow
simpleshow video maker is a web-based AI-powered video platform for creating short explainer videos in no time. The video maker has easy-to-use features for professional results.
It suggests the perfect storyline for your message

Its Explainer Engine illustrates your story with images 

Make use of thousands of Simpleshow illustrations and upload your own images

Record your own voiceover or let us do the talking

Preview your video and make changes in an instant

Publish and share your video with your audience

Create custom videos in your brand colors to perfectly match your corporate identity
You can use simpleshow video maker for several marketing purposes such as promoting a lead gen webinar, explanation of product update, promoting your product or service, weekly communications in newsletters to customers, etc.
The key benefit for simpleshow video maker users is that they can make use of a communication format that engages and convinces their audiences while the creation process is fast and the tool is very easy to use.

Also, to tailor our offering to a wider range of target groups simpleshow offers different plans to use its video maker: The Enterprise plan is the premium package but the company also provides an option for small and medium-sized businesses and offer students and teachers their free Classroom plan. 
8. VideoScribe
VideoScribe is an easy-to-use drag-and-drop animated video maker for people of all skill levels. VideoScribe users don't need any video, design, or animation experience to create engaging and memorable animated videos or GIFs.
Used in over 185 countries worldwide, VideoScribe is trusted by thousands as an educational tool to help teach students, a business tool to share engaging proposals, or a promotional tool for marketers to broaden their brands' reach.
It gives you access to a range of free, editable templates from their ever-expanding template library. They also have an image library of over 11,000+ images.
VideoScribe offers a free 7-day trial with no payment details required. This means people can truly "try before they buy" knowing there's no risk or commitment from the outset.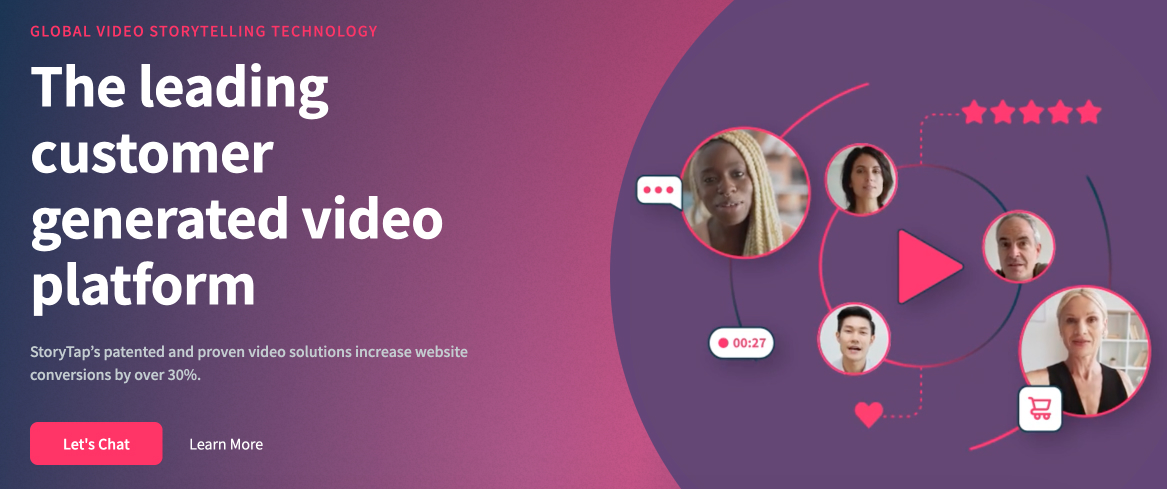 StoryTap is the patented video story platform for turning true stories into video content that builds trust at every stage of the customer journey. Using their technology, you can generate compelling and highly searchable videos for your organization—at scale, all without the high production costs.
The platform is trusted by brands like UCLA, Danone, Canadian Tire, and TELUS. It also lets users:
Source videos from real customers, employees, and people remotely at scale to be used on your website, advertisements, and social media.
Add video to your website without slowing down the site load speed with their video embed.
Rank on the first page of search and drive traffic with their videos optimized for search (video SEO).
Vyond is an online animation software that allows businesses to easily create professional animated videos. The best thing about Vyond is that it's easy to use and has a lot of templates that you can choose from or customize to create your own. It also offers voiceover options, making it ideal for creating story-driven narratives that inspire and strike a chord with your audience. You'll also find compelling data visualization templates that you can use to engage your audience and deliver results.
11. Explee
Explee is a beginner-level tool for creating animated videos that delivers professional videos. It requires no experience and offers a video tutorial to get even the app's least-versed users started. It also provides a library of dynamic and flexible templates composed of videos and images that anyone can use to create animated videos. The tool is cloud-based, has a straightforward user interface, and is designed with drag-and-drop functionalities that lighten the burden and time-consuming part of creating animated videos. Overall, you will love the convenience Explee offers.
12. iClone
iClone is a popular choice among professional 3D video creators to create animation, video games, education, and art. And so, it will require a good deal of knowledge, as opposed to the two above. But if you can live up to the challenge, this is one of the best tools you could ever use for creating animated videos.
iClone integrates the latest design technologies, 3D tools, and game engines to quickly turn your vision into reality. It has a user-friendly interface and functionalities that allow users to combine character animation, scene design, and cinematic storytelling into amazing 3D animations.
13. Cinema 4D 
Cinema 4D is the next-level tool for animated videos and is much more geared at motion graphic animated videos. The primary value of Cinema 4D is its ability to transform complex ideas and concepts into simple, visual content that everyone can understand. Most animation professionals prefer Cinema 4D to other 3D tools. This is due to its convenience, ease of use, and flexibility when integrating tools. In addition, the software allows users to quickly customize and duplicate parameters thanks to its workflow management capabilities.
14. Illustrator
Adobe Illustrator is one of the best software to create animated motion design videos for your marketing. It is an all-in-one video editing tool specially designed to create animated videos using the potential of motion as the main animation tool. You can use it for everything: drawing characters, objects, environments, logos, etc. It contains more features than most tools in its category and is a vector editing software (vector image). Despite this, Adobe manages to make Illustrator user-friendly and intuitive.
Best One-piece Video Marketing Tools
This section includes all-in-one video creation platforms that help you create any type and style of video from templates and camera footage. Any of the following tools can help you create mainstream video styles such as live-action videos, text overlay videos, animated videos, whiteboard videos, and more.
15. Sendspark
Sendspark is the #1 platform for sending personalized videos in email and LinkedIn messages. Founded by marketers with an eye for design, Sendspark makes it easy to create and share polished videos for prospecting, onboarding, or customer support. 
Key Features:
Record your screen, webcam, or both together

Easily embed videos in Hubspot, Mailchimp, Intercom and other email marketing platforms. 

Whitelabel videos with your own logo, brand colors, calls-to-action and

custom domain (CNAME)

Request videos

back from customers too to easily capture feedback and customer testimonials.
Sendspark offers a free-forever plan with 30 videos. Paid pricing starts at $15 per user per month for unlimited videos, custom branding, and calls-to-action.
16. EasyMovie
EasyMovie is not about the video, it is about enabling structured communication at scale. EasyMovie is the simplest way to create and share information and knowledge in minutes through email, Slack/Teams, your CRM… Replace the text in your emails with personalized videos, turn your CRM into a knowledge base, and boost your sales pipeline both internally and externally. 
EasyMovie features everything from pre-production to broadcasting of the videos. With ready-to-go templates videos are made in minutes and using the screen-recording, you can easily show capture anything useful to your target audience. Multi-device feature allows you to film on your phone or on your laptop. After that, a final product can be downloaded, sent via a link or a Gif-link, or embedded in an email. 
Their pricing depends on the number of seats you need for your team, and it is best to discuss this with one of their sales team members. They offer a free trial. To access it, please, fill in the form.
17. Biteable
Biteable is specifically designed to help marketing departments create marketing videos with a keen focus on their target audience. This tool allows you to go from product to product video in just a few clicks, thanks to its rich library of templates. You can add music and text to your videos as you wish. The user interface and drag-and-drop program require no experience. It's intuitive and provides users with relevant information to make their work easier and better as they design their videos.
18. Animoto
You can seamlessly create professional videos using Animoto; no experience needed. The tool lets you create any type and size (clips and long-form) of videos to empower your marketing campaigns. Animoto provides a wealth of images, clips, music choices, fonts, and more to create high-quality videos. These tools can help you produce the professional videos your business needs to stand out from the competition. However, the tool unlocks video editing features depending on the plan you choose. Not all features are available in all shots.
19. PowToon
PowToon bills itself as a visual communication tool that simplifies the creation of video content and offers professional-grade templates. That is, the tool helps you create anything from A-class marketing videos to gifs you can use to better convey your message and hook your audience. PowToon's template library is composed of video clips and animation designs that lets you customize and create any style of video to the deepest stretch of your imagination. The company also offers online video editing services, meaning that you can upload your live-action video and edit them.
20. Magisto
Magisto is a video creation platform with an AI-based editing assistant. The AI-driven editing assistant walks users from video editing to distribution. You can set the mood and emotion you want to convey through your video. The AI, based on that, will suggest music and video effects to help you get it across with perfection. Interestingly, the tool also provides analytics and management data. You can leverage them to measure the performance of your content.
21. Invideo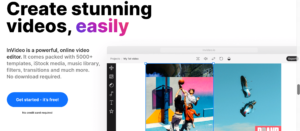 If you want to create stunning videos easily, InVideo is the tool for you. It has 5000+ templates, 8M+ stock media that includes images from iStock, Shutterstock, and Storyblocks, an extensive music library, filters, transitions, and much more with no downloads required. It is available in 70+ languages.
InVideo offers a free version for you to try at no cost where you can enjoy 60 video exports per month. So join the 7+ million users across 190 countries and save yourself the time and effort needed to create eye-catching videos.
Best Video Tools For Editing Videos
You may be wondering the difference between this section and the upper one. They all provide video editing functionalities and you can use either to create any video you want. But they're not comprehensive and sometimes, you'll need to weave lots of elements together to obtain the final cut you can use. You'll need to create special effects that only full-fledged video editing software can provide. So here are the best tools for that.
21. Final Cut Pro
Though it only runs on Mac devices, it is one of the biggest sharks in the video editing ocean. Final Cut Pro possesses some of the top-notch tools for creating and organizing expert-level videos. Professionals especially value the clustering tools, the extensive range of video effects and editing elements, and the ease with which audio can be added and edited. But Adobe's Premiere Pro has somewhat rendered Final Cut Pro traditional. At the same, it's not to be ignored. It is still used by experts and it has been keeping up with the modern-day video creation challenges.
22. Premiere Pro
Premiere Pro is one of the most comprehensive video editing tools you will ever encounter. This software is the current industry standard and expert video editors use it for marketing content and movies. Premiere Pro offers every video editing feature you can think of. You can add anything to your video and make it exactly what you want. For example, you can mix animations, text overlays, and real-life scenes to create stunning videos that truly convey your message.
23. Filmora
Filmora is a full-fledged video editing tool you can use to bring any idea or concept to life with the least effort. It is a comprehensive video editing tool with a clean and straightforward UI that does make you feel like you are looking for a needle in a weasel box. The user experience is just as top-notch. It offers different voiceovers and automatically improves your video's quality to industry standards. The program is available in several versions for Macs and Windows, depending on your needs.
Best Video Tools For Hosting and Analytics
If you're looking for a tool you can use to make the most out of your final video, this is the list you need to check. Some of the tools offer video creation capabilities, but they're much more into the marketing and videos results side of things. These are the tools you can use to gate your videos behind a paywall or integrate data capture forms.
Show is a next-gen Video First Marketing (VFM) platform that helps in video hosting, sharing, marketing, and branding. It helps to uncover valuable viewer insights, generate inbound leads, engage your customer across channels, email marketing, and much more.
Features: 
Video SEO (Generate more traffic with the power of videos)

Interactive Videos (Lead Generation, Survey, Poll, Quiz, Q&A)

Customer profile Analytics & Product analytics & Multi-level Video Analytics Report

Video Player and landing page customization.
Show's pricing starts at $29 but you can also try it for free here.
25. Wistia
As we discussed earlier, some of these tools offer video creation services; Wistia is one. And with that comes a host of video features you can use to create videos and customize the player like no other tool can. If you want, you can add interactive elements to the video player, such as the ability to click through to an external website. It also executes marketing-driven tasks for you. The tool gathers viewer information and engagement metrics and provides insights into the data for retargeting purposes.
26. Vimeo Pro
If you need a simple and easy-to-access video hosting service that ensures great rendering quality on all your videos and provides analytics, then Vimeo Pro is the way to go. Vimeo is well-known for its enhanced and advanced video hosting features. You can set privacy restrictions or allow the video to be watched by anyone with a link. Vimeo optimizes your video's overall feel and delivers seamless playback thanks to its advanced video player. It also lets you embed videos from the platform on your own site, which is the best option for hosting videos on your website.
27. Wave.video
Wave also lets you create videos and host them on the very for your marketing purposes. Hosting your videos on the platform, you can share them with your audience by embedding them into your social media posts, emails, website, and blog posts. It also gathers engagement metrics from the channels you used for sharing the video into video analytics you can use for future decisions. One thing you'll love about Wave is its capability to integrate with other tools.
Wrap-up
Creating marketing videos is not an easy task. Anything like a 30-second video can take you up to hours before you can create something workable, especially since you're not a video creator. But choosing the right tool you'll use to create your video is the best place to begin. Here is our recommendation for the best tool you can use depending on what you want to achieve.
If you just want to quickly create product videos for your product pages or share them on social media, no tool beats Vidi. Vidi provides an infinite number of templates and guides you to create videos that make your viewers love the product.
Loom lets you create professional screen recording videos. It's the perfect tool to create personalized demo and training videos.
Illustrator is more affluent and comprehensive than most animation video tools listed; this only qualifies it as the best in the category.
Both are great as all-in-one video creation tools. They can help you create all types of videos, so you can use either that aligns best with you.
This is the most comprehensive video editing tool. Plus, the provider manages to make it easy to use. So, it's our best bet for editing videos.
Wistia and Vimeo are popular choices, but Wave does a better job gathering information and offers more flexibility to create your video the way you want it and use it as you wish.