In today's fast-paced digital world, video marketing has emerged as a powerful tool for businesses to engage with their audience and drive results. With the rise of platforms like YouTube, Facebook, and Instagram, it is no surprise that video content has become an essential part of any successful marketing strategy.
But aside from its popularity, what makes video marketing so valuable and how can businesses measure its return on investment (ROI)?
To demonstrate the positive impact of video marketing, we have compiled ten slides showcasing insights, trends, and case studies. You can access the presentation here.
In this blog post, we will take a look at these findings and explore how video marketing is shaping the marketing landscape in 2023 and beyond.
If you prefer video, you can join our Co-Founder, Michael Pirone, as he takes you through the most relevant insights from these studies.
Introduction
Earlier this year, we collected the latest insights from 200 of tech and ecommerce's leading marketing minds to understand how they're using video, how they're allocating budgets, and why video remains a key driver of ROI across both B2B and B2C marketing.
We've included Wistia and Hubspot's 2023 data relating to video marketing, and what some industry leaders are saying in Think With Google studies.
Key areas of focus
The presentation primarily focused on three key areas:
Video Usage: Understanding how businesses leverage video in their marketing strategies.
Budget Allocation: Examining how companies allocate their marketing budgets, with a particular emphasis on video.
ROI Impact: Exploring how video marketing contributes to a company's ROI.
Video-First Approach
An important finding from these studies reveals the widespread adoption of a "video-first" strategy among businesses.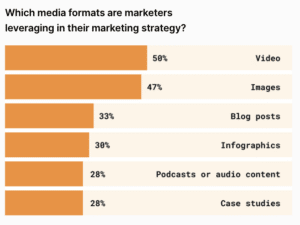 At Vidico, for example, clients who initially request still image assets often discover the benefits of video production. This approach makes perfect sense, considering that a single 60-second video can yield around 40 versatile and cost-effective still image assets.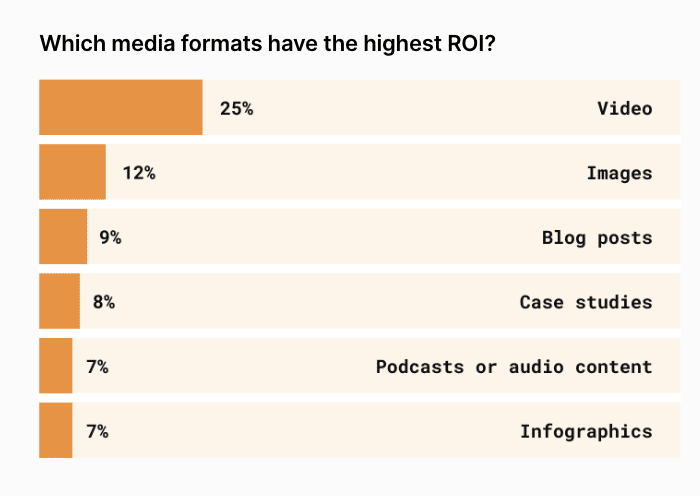 Embracing this "video-first" approach provides businesses with a powerful solution to enhance their online presence and effectively engage their target audience.
Enhancing Landing Page Performance
The research shows that videos can greatly improve the performance of landing pages. Let's take a look at an example where an explainer video on a landing page improved conversion rates.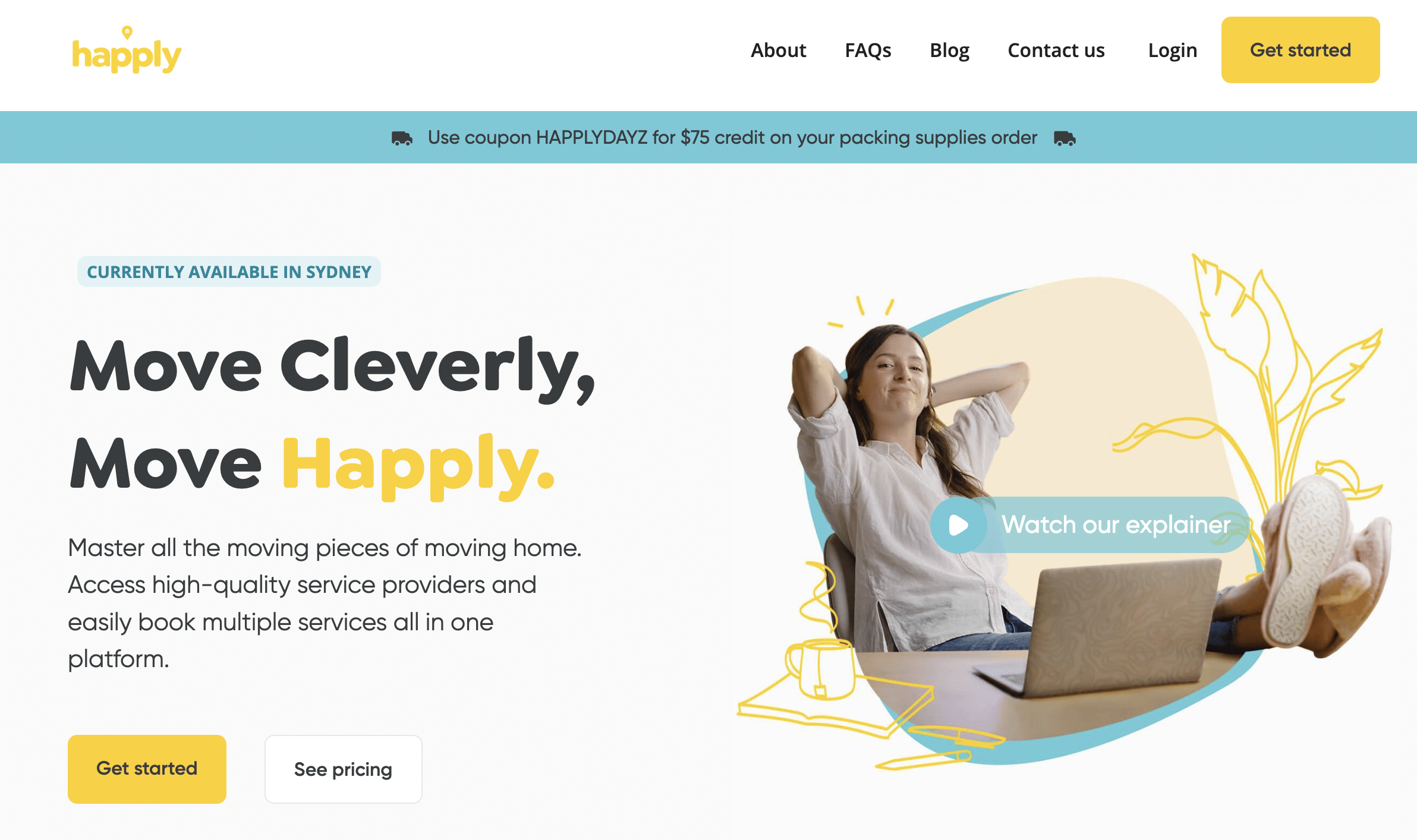 Happly, one of our clients, uses an explainer video as the main asset on their homepage. The video is designed to assist in converting any visitors to the page into customers.
And you can also see how Square uses them as well:
Short videos, especially those lasting 15 to 30 seconds, wield significant influence on engagement and conversion rates. They excel at conveying mid-funnel explanations, be it for an e-commerce product or the promotion of a SaaS offering.
We also recently did this for a large Australian accounting company called Reckon where you go to all of their product pages and we very tactically put a product explainer video for each of those features or use cases there to really help the viewer understand what it is that they're signing up for.
There are some other interesting metrics that really show the powerful impact of these videos on landing pages and other owned channels, like email. It just goes to show that videos can bring about immediate and meaningful results, making a lasting impression.
Embedding videos on landing pages can increase conversion rates by 86% (EyeView).
Forrester Research reports up to 300% increase in click-through rates when video is included in emails.
Wistia data reveals that videos can keep visitors on your site 2.6x longer.
Videos unlock the power of visual storytelling, delivering a captivating and immersive experience that goes beyond the boundaries of static text and images.
Budget Allocation Trends
The next insight is where video is actually being used by marketers from an investment. So, looking at this, you can see HubSpot and Wistia surveyed 1500 marketers on the top 6 media formats that they plan to invest in most this year.
Our state of video marketing report also revealed that video continues to lead in terms of budget allocation. Compared to other media formats, such as podcasts, video remains a top choice for marketers. While video production can be costlier, its effectiveness and versatility justify the investment.
This year, we see that same number of companies (41%) are willing to spend up to 26-50% of their marketing budget on video marketing.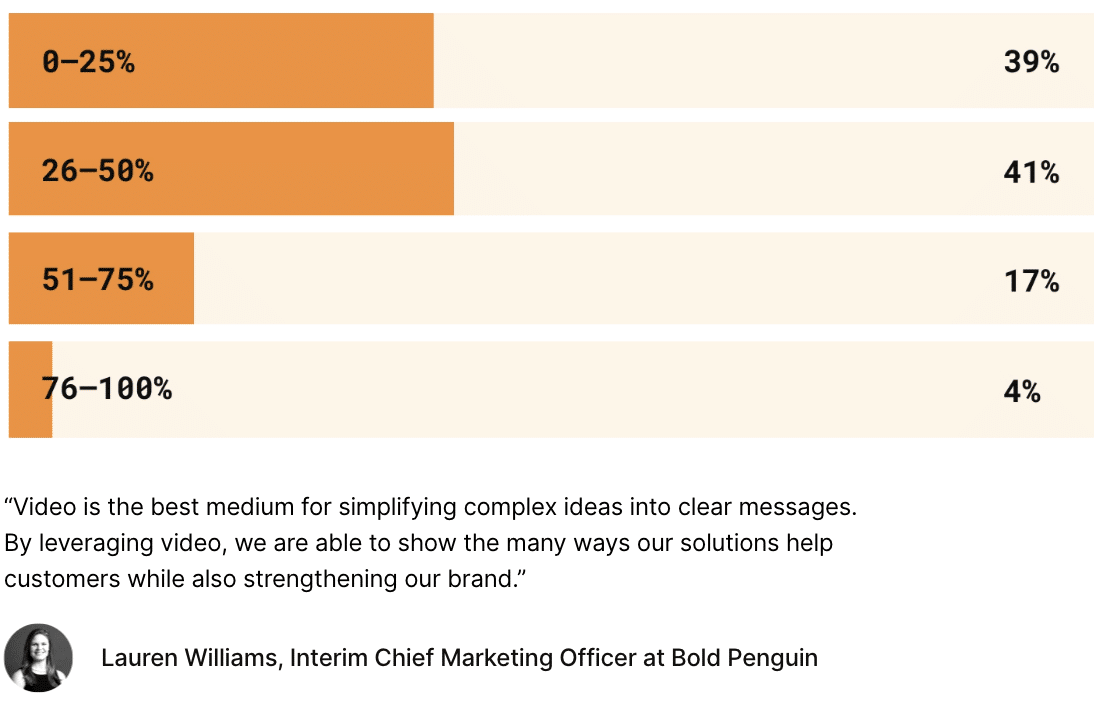 That number is followed by 39% of businesses allocating between 0 and 25% of the marketing budget to video. We also saw an uptick in the number of companies that allocate between 51 and 75% to video, going from 37% to 39% of companies.
The percentage of businesses that spend between 75 and 100% of the marketing budget on video also went from 2% last year, to 7% this year. There definitely is a shift towards making video take the place of honor in marketing priorities.
According to the study, monthly investment in video marketing or video ads has remained relatively consistent. Interestingly, the majority of companies still allocate less than $5,000 per month towards video-related activities. This finding highlights the importance of optimizing video strategies for improved online visibility and marketing success.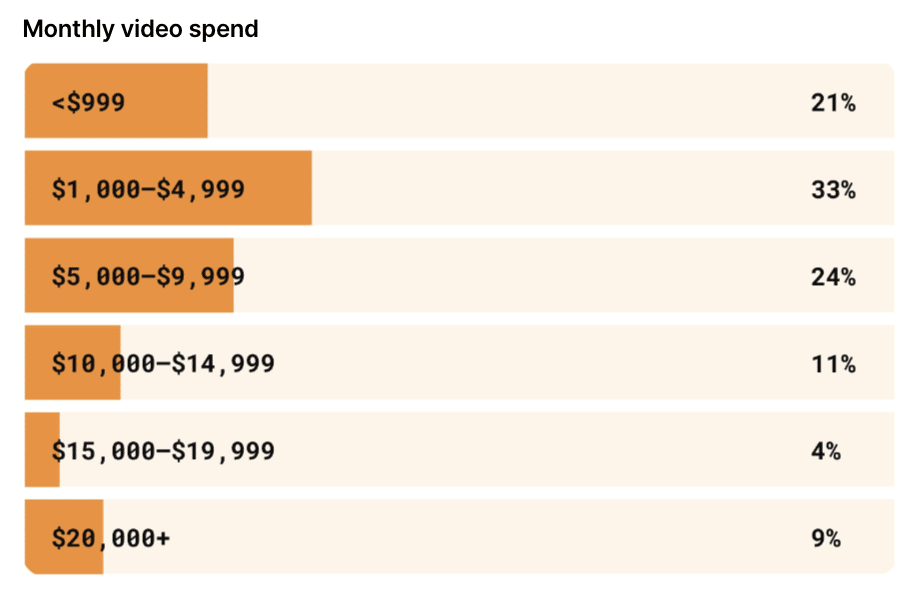 Marketing challenges solved by video
For marketers, brand awareness is still the top challenge to overcome with video, closely followed by sales.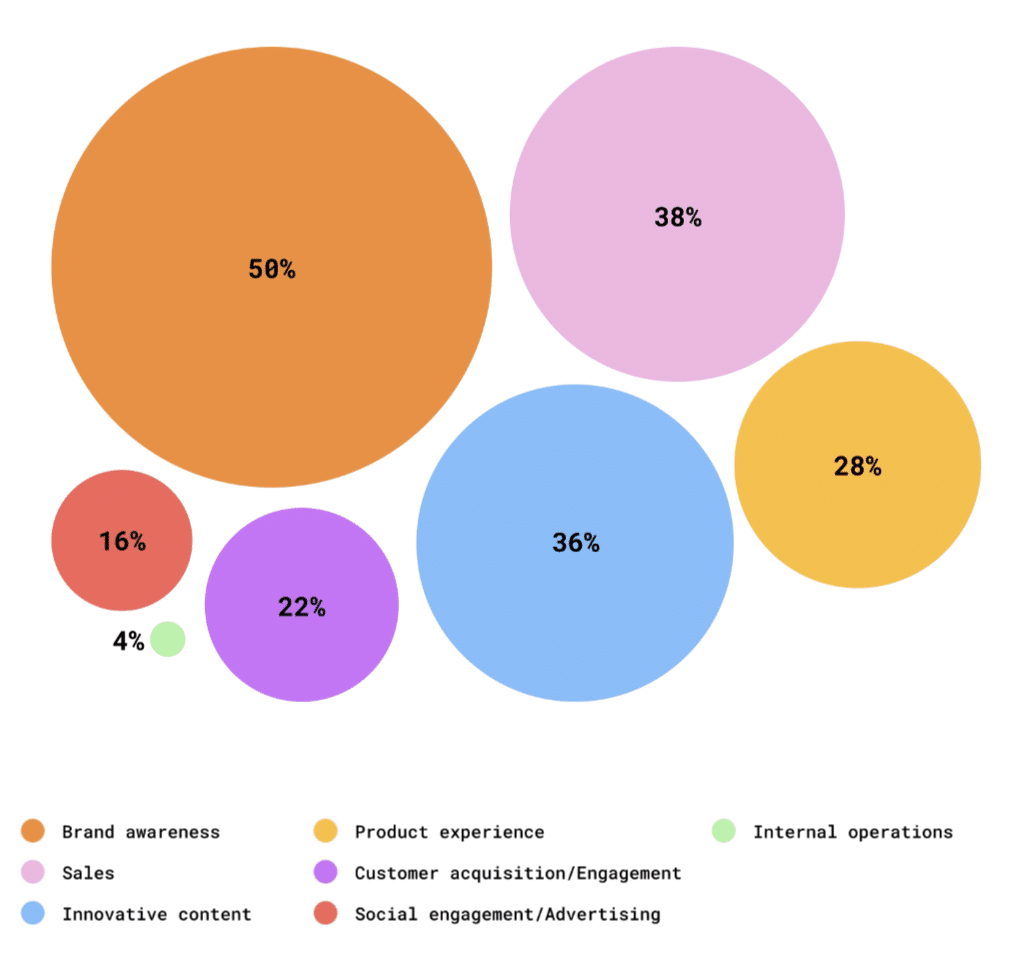 This shows that businesses are seeking more conversions, leads, and revenue, and that they rely heavily on video to reach their target audience.
When it comes to video marketing, B2B companies care about how their audience perceives them — and the experience that comes from interacting with their brand.
Video across departments
Another noteworthy finding is the shift in the departments using video. In 2023, product-related videos took the lead, reflecting a trend towards mid-funnel content and product launches. Content marketing, social media, and brand-related videos also play pivotal roles.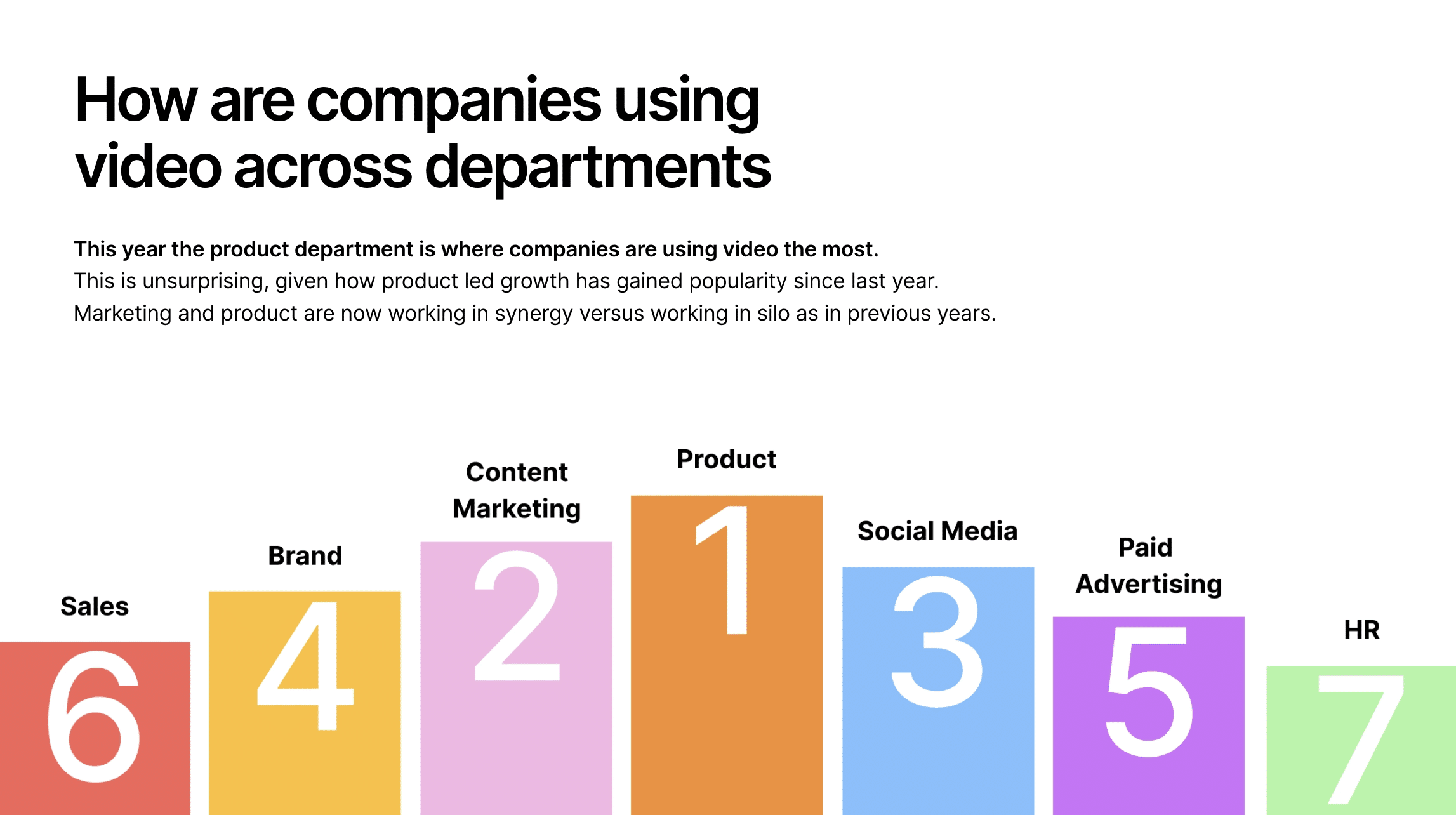 Case study: How Movember leverages video content
Movember is dedicated to raising awareness about men's health through impactful events, campaigns, and educational initiatives. For their 2022 campaign, Vidico created a captivating series of six videos, which were later divided across over 70 creative assets to maximise investment and distribution.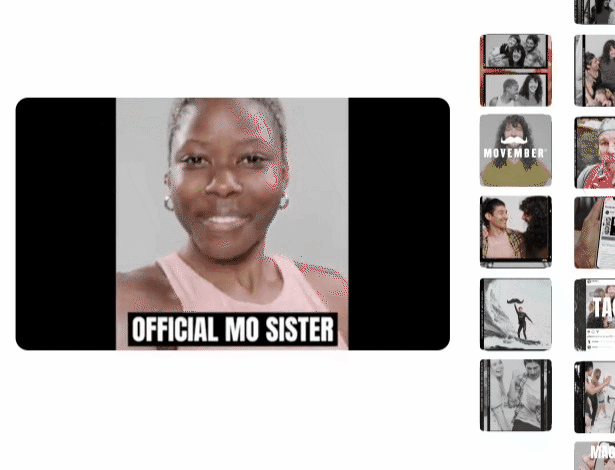 The "Mo Like a Pro" video series rocked the digital world with a bold, authentic vibe, inspiring global engagement and meaningful action towards men's health.
The results were remarkable:
Nearly 4,000,000+ unique views on TikTok and Instagram, and over 35,500+ reactions.
15,000 events organized.
330,000 individuals installed the Movember App.
107 laps around the Earth run or walked.
12 tons of moustache hair grown across the globe.
This success underscores the strategic value of creative video production, which can generate a wide range of compelling content types.
Future of Video Marketing
In conclusion, these studies suggest that video marketing will continue to grow in 2023 and beyond.
The three main drivers are:
High ROI: Marketers recognize video as one of the most ROI-effective media formats.
Widespread adoption: An impressive 88% of marketers incorporate video into their marketing strategies.
Budget allocation: Many companies are willing to allocate a significant portion of their marketing budgets to video due to its content richness.
Conclusion
As businesses strive to engage their audiences, enhance their brand presence, and drive conversions, video remains a powerful tool that promises significant returns on investment. Stay tuned for the latest trends in the world of video marketing, as it continues to evolve and shape the marketing landscape. Subscribe to our Video For Growth newsletter and join over 8.9k marketing leaders who are leveraging video to drive their business forward.
If you want to learn more or have any questions on video, feel free to get in touch with us.